The shortfall in the availability of staff in the UK labour market has pushed starting salaries up to record levels, according to KPMG and the Recruitment and Employment Confederation.
In line with a rapidly tightening labour market, the availability of permanent staff continued to decline in June.
The KPMG/REC report said that the index dropped to 28.9 in June for permanent staff, down from 34.9 in May and 41.1 in January.
An index reading above 50 signals a higher number of permanent staff available than the previous month.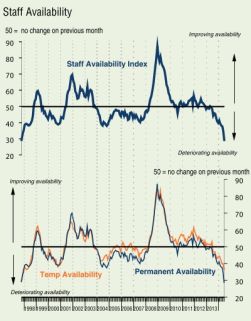 Moreover, the rate of contraction accelerated for a fifth successive month to new series record.
Meanwhile, availability of temporary/contract staff dropped to 36.6, down from 40.1 in May and 44.6 in January.
In contrast, the survey recorded an increase in average starting salaries for workers placed into permanent jobs as the index increased to 66.2 in June, up from 63.9 in May.
Likewise, temporary/contract pay rates jumped to 59.7 in June, up from 57.2 in May.
"The message to UK businesses is that it is crucial to sharpen up hiring procedures in an increasingly candidate driven market," said Tom Hadley, director of policy at the REC.
"The message to government is that we need to reform the visa system to satisfy immediate demand for skills, whilst stepping up measures to boost the UK skills base for the long-term."
The report also revealed that the continuation of strong growth in permanent and temporary jobs as the demand for permanent staff placements fell to 61.3 in June, down from 62.9 in May and 65.2 in February.
The research also said that temporary/contract staff billings jump to 62.2 in June, up from 59.1 in May.