The UK is lagging behind other nations when it comes to technological innovation as businesses focus on cost cutting rather than driving growth.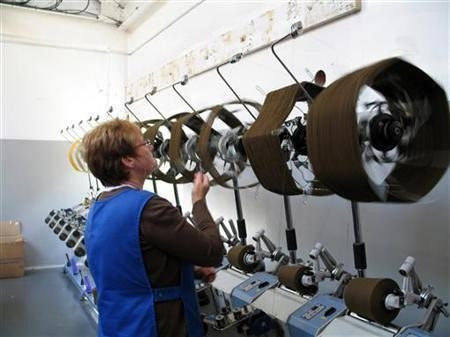 The findings come from a study carried out by Accenture to discover attitudes of UK businesses towards technological innovation with the results showing that 58% of businesses believe the UK lags behind the US, China and other Asian markets.
"Innovation really allows organisations to differentiate themselves from competitors and drive growth in their respective businesses," Accenture managing director Andrew Poppleton told IBTimes UK this week ahead of the report's publication.
The most surprising finding from the result for Poppleton was that organisations were "using innovation typically to drive efficiencies for either their employees or their shareholders or their board, rather than their customers."
The study findings come a week after the Office of National Statistics said the UK economy had expanded by 0.6% leading George Osborne to proclaim that Britain is "on the mend" after experiencing deep economic recession.
There was further good news this week when figures revealed that British retailers had their best July in seven years, on the back of feel good factor brought about by the Royal Baby, Andy Murray and 'unseasonal' sunshine.
Change of mindset
"With early signs of growth in the economy, it is now time for businesses to turn their attention to their customers and innovate for growth. Our research shows that technology is a strong driver for change, but if the UK is to sustain long term economic growth, we need a change in mindset," Poppleton said.
Changing that mindset is not going to be easy, as within a lot of companies people are looking to shift responsibility away from themselves:
"Some of the feedback we were getting from the survey was 'it was somebody else's problem' ie it was government who should be providing more incentives for innovation or schools should be teaching people more around technology," Poppleton said.
"The route to success here is within the organisations themselves. It is having the right leadership from the top. Having CEOs and boards that really believe that innovation can really drive an advantage and focus the organisation and reward people for that type of behaviour."
Inability to focus
The inability to focus on innovation to drive costs down rather than grow revenue comes from years of trying to take costs out of the business and trying to be more efficient, rather than looking at how they can acquire new customers and grow their revenue, according to Poppleton.
This is because it is easier to justify internal investment which takes cost out of the business as it is "more tangible" and you can measure it. Investing to drive further growth is much more risky.
Economic fug
One answer to this issue is greater investment in technology. Last month the chancellor pledged £185 million to the Technology Strategy Board to recognise the work it is doing to support innovative businesses commercialise new technologies and get them into the marketplace.
The reason why we the UK lags behind the US is because it has emerged further from the economic fug we have been experiencing for the last five years compared to countries in Europe, and Poppleton says that as you see more growth "people more confident and invest in things they just don't invest in when times are very, very tough."
In order to turn things around Poppleton says companies need to empower their employees to try something new and each day those employees should "feel the responsibility to innovate."
Skills shortage
Thanks to the consumerisation of technology and the lowering costs of technology, it has never been easier to innovate, to create an environment where it is OK to fail, because "by failing you come out with more ideas."
The survey found that investing in skills training is an important factor for growth but at the moment a lot of companies are looking to put the blame for any skills shortage on others:
"I think it is a bit of an excuse in some cases for organisations not investing enough themselves and it being relatively easy to blame the government or education when actually leading organisations should be constantly looking at the skills and capabilities they need."