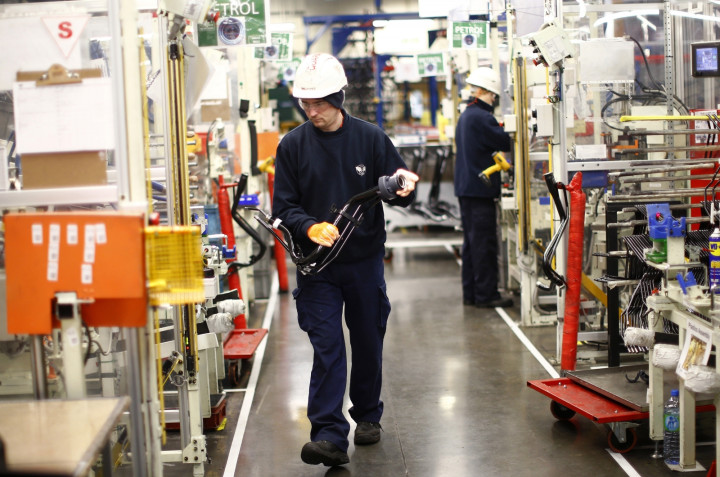 UK manufacturers are seeing their pay packets accelerate faster than inflation and bucking average wages across Britain, according to industry body the EEF.
The manufacturers' organisation said that the average pay settlement in the six months to July had grown by 2.6% – well above Consumer Price Index inflation of 1.6% in the year to July.
The figure is in contrast to low average wage growth in the UK of 0.2% in the three months to June, according to official figures.
"Manufacturing pay continues to run ahead of the wider economy with signs that the pressure on household budgets, at least for employees in industry, is starting to unwind," said Lee Hopley, chief economist at EEF.
"After many challenging years, manufacturers are also now literally paying their employees back for their support to keep jobs and businesses going.
"Business across the sector have clearly been on the up, but affordability will remain a key consideration in future pay deals as manufacturers grow in confidence that the recovery is secure."
The research also revealed that the 2.6% growth rate was up on 2.4% last year.
In addition, the study found that the number of employers introducing pay freezes dropped to 6.4% of 331 firms surveyed, down from 14.6% in 2013.
The figures comes after job site Adzuna said a manufacturing drive in the Midlands and the north of England has boosted the regions' labour market recovery.
The company said average advertised salaries in manufacturing hit a two-year high in July, up 15.9% year-on-year to £29,507 ($48,930, €36,874).
Further signs of positivity in the sector abound, with the number of advertised manufacturing vacancies increasing to 15,912 – almost double the levels in July 2013 (7,645).