A senior Whitehall official has revealed that the UK government is considering imposing anti-social behaviour orders - or ASBOs - on around 25 Muslim preachers thought to be fomenting unrest in the UK without breaking any specific laws.
Under the proposals, which could become reality by the spring of 2014, preachers on the list would have their activities curtailed and be prohibited from speaking at universities, Islamic study centres and other public spaces.
The proposals follow the presentation of a report to parliament by an anti-extremist task force which also called for charities suspected of being fronts for extremist groups to be shut down and internet filters to block out extremist websites. The report called for terrorism and extremism behaviour orders, or 'TEBOs', to be placed on radicals.
Speaking about the proposals Prime Minister David Cameron said: "There are just too many people who have been radicalised at Islamic centres, who have been in contact with extremist preachers, who have come across material on the internet who haven't been sufficiently challenged. Some institutions have wanted to get rid of radicalisers but haven't had the means to do so."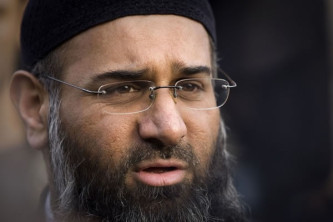 Following the murder of Lee Rigby in Woolwich in May, it was revealed that his killers had been influenced by the cleric Anjem Choudary. Michael Adebolajo and Michael Adebowale were found guilty of killing the fusilier at the Old Bailey and after the verdict was announced Choudary is reported as saying he was "very proud" of Adebolajo, refusing to condemn the murders when invited to do so on Radio 4's Today programme.
Choudary is not thought to feature on the list because as a former solicitor he takes care not to break the law, but the 25 possible targets are thought to include Haitham al-Haddad, a Palestinian scholar who praised Osama bin Laden following his death in 2011.
Haddad has been invited to speak at a number of UK universities and last year he was banned from speaking at the London School of Economics after Jewish students requested his event be cancelled for allegedly preaching hatred against Jews - a charge Haddad denies.