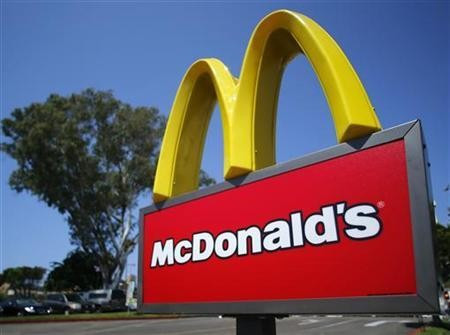 McDonalds have come under fire after metal "anti-homeless spikes" were installed outside one of its Leeds branches.
More than 75,000 people have signed a petition demanding the fast food giant remove the spikes that are evidently intended to deter people sleeping rough outside the branch.
Critics argue that the spikes are inhumane and have been installed in areas where there used to be benches.
Isobella DeMartino, who set up the petition to have the spikes removed, said little consideration is given to the plight of the homeless.
"Anti-homeless spikes show complete disregard and lack of respect for homeless people who struggle every day. Spikes have been installed, presumably to prevent people sleeping there. The fact that the spikes exist shows how little people care about homeless people," she said.
"Every time I'm in Leeds I see many ignore homeless people, not even bothering to smile at them let alone try to help them or give charity. I cannot imagine how painful and lonely it must be to be homeless. They deserve our attention and care, this issue cannot be ignored."
McDonald's has responded to the petition and claim the measure was not taken to deter the homeless, but was an attempt to stop anti-social behaviour.
Defending the use of the spikes a spokeswoman for McDonald's said: "The studs in question are not an 'anti- homeless' measure, as has been suggested. They have been in place for around two years and were introduced following discussions with the police, in response to issues we were experiencing with antisocial behaviour.
"We welcome all customers through our doors and it is inaccurate to suggest a measure taken in response to tackling antisocial behaviour, is an attempt to deter homeless people."
Supermarket giant Tesco were targeted by activists protesting at metal spikes which were embedded on the supermarket's Regent Street's window sills. The group vandalised the spikes by pouring concrete on to them.
Following a public outcry, Tesco removed the spikes, but insisted their intentions were never to discourage homeless people, merely to cut down on anti-social behaviour.
Selfridges also agreed to remove spikes outside their Manchester store following complaints. More than 10,000 people signed an e-petition demanding they be removed.
Selfridges similarly insisted the spikes were not placed there to deter homeless people from sleeping outside the building, but were installed as part of a number of measures to reduce litter and smoking outside the store's team entrance.
Metal studs have reportedly been appearing across the country for the last decade as the number of people sleeping rough rises.
Jacqui McCluskey, director of policy and communications for Homeless Link, described the spikes as "shocking".
"Many people who sleep rough just don't know where to turn and are amongst the most vulnerable in our society. Sleeping on the streets is dangerous, bad for your health and individuals need support," she explained.
"This approach is not only inhumane, it does nothing to tackle the causes of rough sleeping and just moves the issue on for someone else to deal with."
The petition demanding the removal of the spikes outside McDonalds has received support from people around the globe.