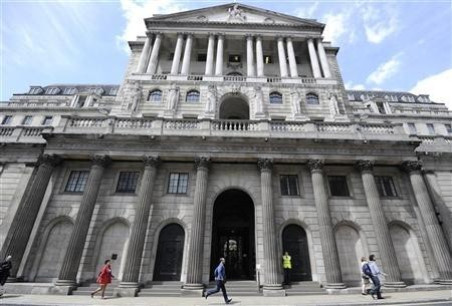 Britain's public finances saw a bigger than expected surplus in January after they were given a boost by the transfer of gilt coupon payments from the Bank of England's asset purchases under its quantitative easing programme.
Public sector current budget surplus was £14.9bn in January 2013, said the Office for National Statistics (ONS), a £5.1bn higher surplus than the same month a year before.
A transfer of £3.8bn was made to the Treasury by the Bank of England (BoE) from its Asset Purchase Facility (APF). Under APF, the Bank buys up gilts in order to improve market liquidity and bring down the government's cost of borrowing.
In November, the Treasury announced that it would receive coupon payments from the BoE on the gilts it now holds as a result of the £375bn quantitative easing programme.
"January is always a good month for revenues as it is the deadline for income tax and there are big corporation tax revenues in the month too," said James Knightley, ING analyst.
"This year it also got a boost from the transfer of money from the BoE, reflecting the partial payment of some of the interest income the central bank has received on its gilt holdings resulting from QE. Consequently, the underlying story isn't quite as good. Indeed, the UK's AAA rating remains under threat and with economic activity remaining subdued and tax revenues disappointing, Chancellor Osborne has little wiggle room when he presents his annual budget next month," he adds.
Public finances have also benefited from the transfer of £28bn assets held under the Royal Mail Pension Fund to the government in April 2012.
Net debt for the public sector hit £1.16tn in January, the equivalent of 73.8 percent of overall GDP, excluding the impact of bank bailouts in the financial crisis.
Sterling trimmed its losses against the dollar after the public finances data was released, and rose against the euro.
The pound lifted to $1.5234 from $1.5207 before the ONS release, and its gains pushed the euro down to a session low of 86.55 pence per euro.
Britain's debt has bloated over the past couple of years as the economy deteriorated and failed to meet forecasts, causing tax receipts and output to dwindle.
This forced Osborne to borrow more than he expected to and left him no choice but to delay his fiscal target of bringing debt down as a portion of GDP by 2015 for a further year, as well as extend the period of public sector austerity until at least 2018.
As a result of the weakening domestic economy, the UK's AAA rating on sovereign debt is facing a likely downgrade in the coming months.
The British finance ministry said public sector accounts data showed an improvement in the country's fiscal situation.
"They underline what the governor of the Bank of England said last week: the road ahead will be difficult, but the economy is on the right track," says a spokesman for the Treasury.
---
Follow @shanecroucher