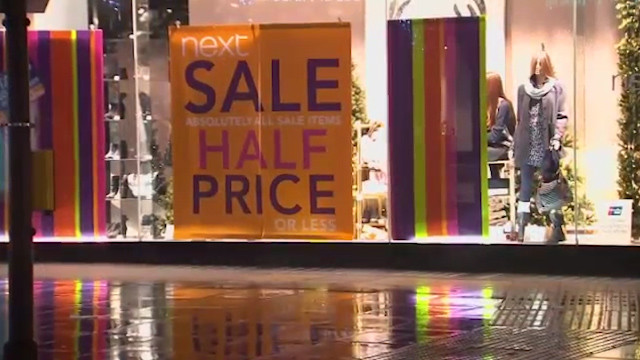 Growth in the British retail sector slowed in May amid declining food sales as consumers continued to seek cheaper rates.
The British Retail Consortium (BRC) - KPMG Retail Sales Monitor found that the UK retail sales rose 0.5% on a like-for-like basis from May 2013, when they rose 1.8%. Overall sales rose 2.0%, compared to a 3.4% increase in May 2013.
Food sales declined by 0.2% year-on-year on a three-month average basis, turning negative for the first time since the BRC record began in 2008.
Meanwhile, the three-month average rise for non-food sales was 4.3%, ahead of the 12-month trend of 3.8%.
"There is a very clear pattern in food sales emerging where customers continue to be discerning in search of value," Helen Dickinson, BRC director general, said in a statement.
"Supermarkets are providing great quality food in a very competitive market and this shows in the three-month average food growth, which turned negative for the first time since our records began in 2008 (excluding Easter distortions)."
She noted that customers took advantage of great summer fashion ranges, resulting in the best clothing sales since December 2011, performing better than any other category.
In addition, big ticket items such as consoles and televisions experienced strong sales as consumers were more optimistic about the economy.
"The recovery is gaining pace in the retail sector, but the latest figures reveal the scale of the paradox that has emerged. While non-food retailers are seeing steady sales growth, the grocers appear locked in a race to the bottom, imposing price cut after price cut to maintain their sales volumes," said David McCorquodale, head of retail at KPMG.
"This price war is hindering the retail sector's overall recovery, which without the effects of these cuts would have seen like for like sales growth outpace inflation over the last quarter."
He added that the UK retail sector's main barrier to recovery is the grocers' battle over price.
"The deflationary effect of these prolonged discounting campaigns, whilst good for consumers, is feeding through to the grocers' margins and share values."
While the price war provides consumers with plenty of options in the short term, it is questioning the long term value of the grocers' brands and positioning, according to McCorquodale.