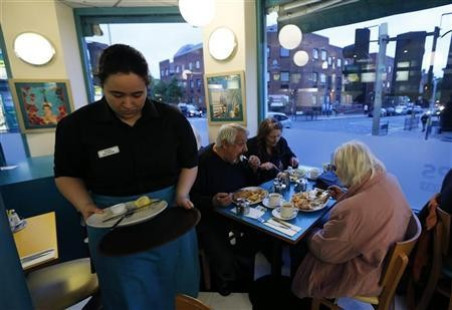 March Service Sector PMI Reading
52.4, up from February's 51.8.
Key points
New business volumes rise at strongest rate since last May
Fractional rise in employment also recorded
Business confidence at ten-month high
Average operating costs continued to increase
Highest since August
Composite PMI hits 50.9 - points to 0.1% Q1 growth
Comment
"The government and Bank of England will breathe sighs of relief in seeing signs of a gathering upturn in the service sector during March, which looks set to have helped the UK avoid a triple-dip recession by the narrowest of margins," said Chris Williamson, Chief Economist at survey compilers Markit.
"Business activity grew in March at the fastest rate since the Olympics related upturn seen last August, providing a much needed boost to the economy in the first quarter after disappointing surveys for the smaller manufacturing and construction sectors.
"With growth of the service sector offsetting contractions in manufacturing and construction, the PMI survey data collectively point to the economy having grown by a mere 0.1 percent in the first three months of the year.
"This is clearly a far from satisfactory pace of growth, although it is likely that the poor weather caused disruptions to many businesses in recent months, meaning the underlying recovery trend is likely to be stronger than the recent data suggest.
"We would therefore expect to see faster economic growth in the second quarter and, barring any surprises such as a further worsening of the eurozone crisis or severe weather, monetary policy is set to be on hold for the foreseeable future."
Context
This is the number the Treasury had been hoping for and surely shows that the country has narrowly avoided a triple-dip recession, as many economists had predicted. It looks as though the bad weather and snowfall did not hold back the service sector, which represents around three quarters of GDP, enough to drag the economy into a third decline.
Economically, the difference between 0.1 percent growth and a 0.1 percent contraction is pretty much a rounding error, and of little real significance, but the damage would have been heavy on the political side of things for Chancellor George Osborne, who is under pressure because of the constant barrage of missed economic forecasts and stagnation.
Read the Markit report in full.
---
Purchasing managers index (PMI) surveys are carried out by Markit Economics and the Chartered Institute for Purchase & Supply (CIPS).
Each month purchasing managers across private UK firms are surveyed to give an indication of business activity in the service, manufacturing and construction sectors.
On the index, neutral output activity is 50.
Any reading above represents expansion, while under signifies contraction.
---
Follow @shanecroucher