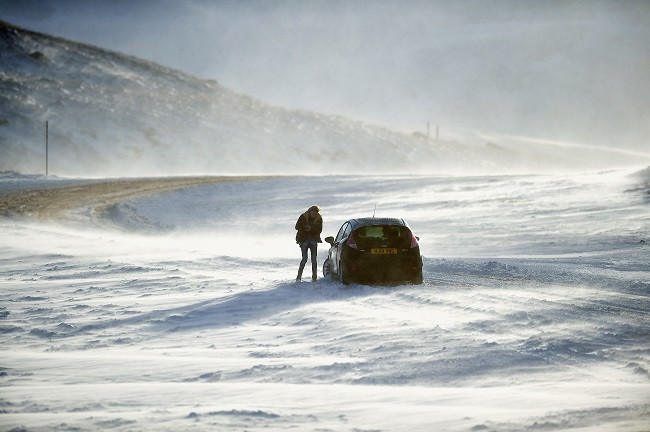 The UK is expected to be affected by a "weather bomb", with gusts of up to 80mph on Tuesday evening.
The explosive cyclogenesis is running along the coast of northern Canada towards Iceland. The remnants of the storm will however batter northern areas across north Wales, Scotland, northern England and Northern Ireland.
The Met Office has already issued a yellow warning, which means "be aware": severe weather is possible over the next few days and you should plan ahead regarding possible travel delays, or the disruption of your day to day activities.
Dan Williams, a Met Office spokesman, said: "It [weather bomb] is not going to hit the UK but we will feel the influence of it."
Already parts of Northern Ireland and Scotland were hit with snow and cars were seen abandoned in some places.
Forecasters are warning there will be severe gales tonight (9 December), battering the northern half of the UK, with gusts of up to 100mph hitting the Scottish Highland, causing blizzard conditions.
Leon Brown, meteorologist from the Weather Channel UK, said: "On Thursday the wintry showers will gradually ease over the north-west but still further snow over hills and very icy across northern Britain in the morning so drivers beware."
The next low pressure system will bring gales and rain to southern areas on Thursday evening, (11 December), including snow across Northern Ireland and southern and central Scotland. Over 20cm is expected to cover the southern Highlands, and is also expected cover higher parts of Derbyshire, Staffordshire and Lancashire.
"The first severe frost of the winter will be Friday night to Saturday morning. With snow on the ground over Scotland and the higher parts of North England temperatures will plunge. -10C possible in the east and south east of Scotland and -8C in Northumberland. -2 to -4C across central to southern England too and a very icy start on Saturday," Brown added.