Parts of the UK have been told to brace themselves for further strong winds and snow following gale force conditions in which at least one person died.
Gusts of up to 90mph are expected to hit parts of Scotland and Northern Ireland, with some areas of western Scotland also expected to see up to 20cm of snow.
There are warnings of heavy rain and icy road conditions could create hazardous driving conditions across eastern England and Wales.
The Environment Agency has also issued 15 flood alerts south western and south eastern England. The storm which battered large parts of the UK last night left one 23-year-old woman dead after a tree fell on her car near Mullingar in Northern Ireland.
One sailor is also missing after he fell overboard from a cargo ship during treacherous conditions on the River Trent off North Lincolnshire. The search for the 45-year-old, who was not thought to have been wearing a life jacket, continues today after being called off last night due to "very poor" conditions.
A Met office spokesperson said: "Gusts of 60 to 70 mph are expected in many areas, especially around exposed coasts, where 80 mph gusts seem likely in places.
"The wind will lead to large waves with some coastal over-topping possible. Some heavy rain is also expected. The rain and the strongest winds will clear from the south during Thursday morning, giving way to blustery and wintry showers."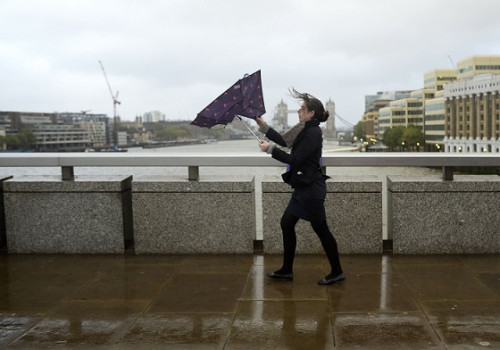 Forecasters predict the weather will be at its worst overnight.
Chris Burton, a forecaster with MeteoGroup, said: "A storm system is moving in off the Atlantic towards the north-west Highlands.
"It's really overnight that the winds are going to be at their strongest. Most of Scotland will see gusts of 50-70mph and north-west Scotland and the western and northern isles could see gusts of 90mph in some places, so there will be some damaging gusts of wind for a time.
"There's also going to be some quite heavy rain that will sweep in, and following behind there will be colder air so we could see some wintry showers with snow on higher ground."
Around 7,000 homes and businesses in Northern Ireland are still without electricity after the winds knocked out power. The heavy winds are also expected to cause travel disruption, especially on the rail network in Scotland.
Traffic Scotland operator manager Stein Connelly said: "The Met Office is telling us that the north-west Highlands and Western Isles are likely to face disruption due to the strong winds.
"We would advise people in these areas to prepare for some travel disruption and to allow extra time for their journeys.
"They should also check the relevant websites for up-to-date travel information.
The weather also affected some sporting events, with the Sky Bet Championship match between Sheffield Wednesday and Wigan Athletic at Hillsborough called off due to a water logged pitch.
Stoke City's Capital One Cup game against Manchester United at the Britannia Stadium was also temporarily suspended because of a hail storm.