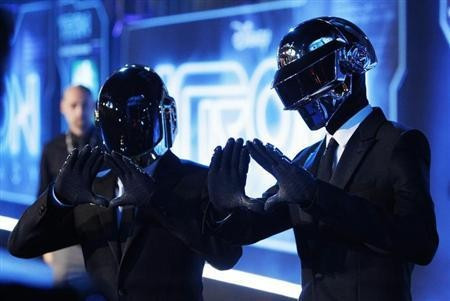 The official UK Top 40 singles chart will soon include songs that have been streamed on music services such as Spotify, the BBC has said.
Currently, the official music charts are compiled based on the number of physical copies a single has sold, plus its digital downloads.
Speaking at Radio Academy event in London,the head of music at BBC Radio 1 and Radio 1 Extra, George Ergatoudis, has said the station will now be including streaming data when compiling the top 40 "very soon".
The move would follow other countries who already include streamed songs in their official singles charts, such as Germany, Sweden and the US.
Ergatoudis tweeted after the event that other music streaming services, such as Deezr and Rdio, will also be included when compiling the streamed music data.
The Official Charts Company said no date had been set for the changes but summer has been mooted.
Martin Talbot, managing director of the Official Charts Company, told Music Week: "We are beginning to look at this, as every market is - but we have a lot of due diligence to do before making what would be a significant jump in the UK."
One of the issues that needs to be addressed if whether to include data from YouTube. In the US, where the Billboard Hot 100 has incorporated streamed songs since 2007, songs such Harlem Shake climbed to the top of the music charts thanks to the dancing viral videos it soundtracked and the millions of views they gained.
They will also be questions about how long a song must be played on services such as Spotify before it can be counted. Some have suggested 30 seconds is sufficient, while others believe it needs to be the full track.
Last year, Daft Punk's Get Lucky was the most streamed track of 2013 in the UK.