There are more exporters than importers in the struggling British economy despite the heavy imbalance towards imports in UK trade, which leaves the country with a deficit.
This newly released chart from the Office for National Statistics (ONS) is based on data from 2011, compiled in the annual business survey, but gives an interesting snapshot of the firms engaged in international trade.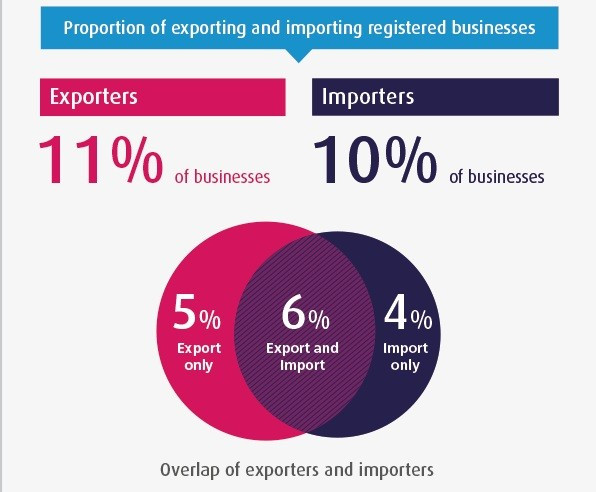 UK Chancellor George Osborne is already eyeing up the growth of Britain's exports as a route to economic recovery. He has set the target of increasing their value to £1tn by the end of the decade.
However, the government's trade minister Lord Green admitted to IBTimes UK that they must "step up a gear" if they are to meet this goal.
There is a months-long delay to a financial support package for foreign importers of British goods - the £5bn export refinancing facility - as officials try to navigate EU state aid law.
This next portion of the ONS chart shows that it is foreign businesses most engaged in UK trade, both importing and exporting.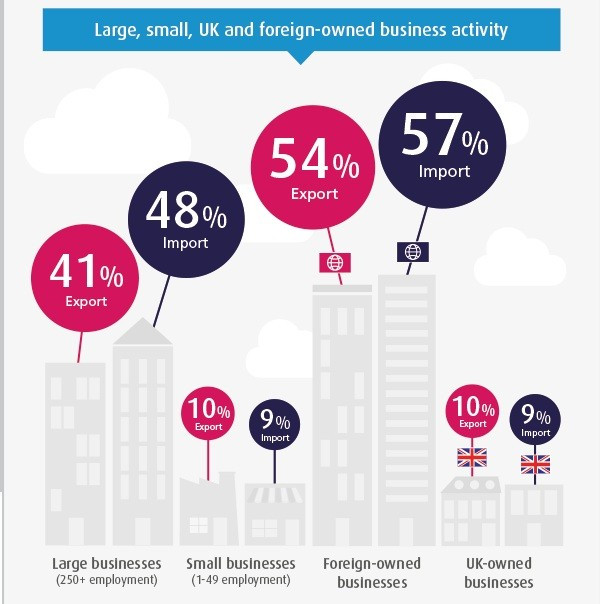 "This is in sharp contrast to UK-owned businesses where the proportions of exporters and importers were much lower (10% and 9% respectively)," said the ONS.
"Foreign-owned businesses were therefore over five times more likely to export, and over six times more likely to import than UK-owned businesses."
They were nine times more likely to be engaged in both importing and exporting.
Older firms are also more likely to be engaged in trading activity than younger businesses.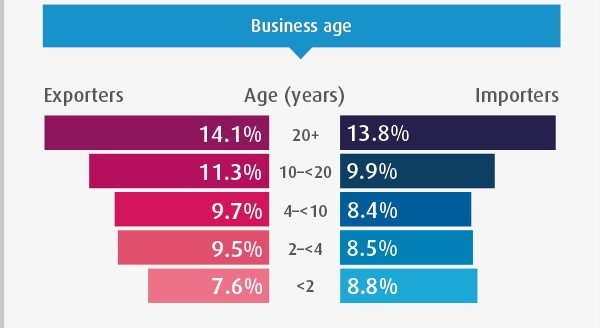 "Some of these differences could be attributed to older businesses having had more time to establish trade links with businesses abroad," said the ONS.
"Another possible explanation is that new businesses may be focusing on achieving growth in the local market before expanding abroad."
What is important is what has happened since 2011. Latest figures show the UK's seasonally adjusted deficit in trade, including both goods and services, widened to £3.6bn in February 2013.
The global trading environment has not improved, if anything worsening since the ONS chart data was compiled. The eurozone crisis rumbles on month-by-month, weighing down demand in the Europe, the UK's biggest trading partner.
Economic difficulties surrounding the "fiscal cliff" in the US hindered trade across the Atlantic. Slowing growth in powerhouse China has made the scramble for lucrative trade in the Far East even more competitive.
There is some suggestion of a brighter future for UK exporters. HSBC predicts that UK merchandise exports to Asia will grow 9% a year between 2013 and 2015. The Middle East and North Africa region should see 8% annual growth, said the bank. Exports to Latin America, particularly Brazil, should rise at around the same rate.
UK Trade & Investment, the government department, has highlighted 19 high growth markets that British firms should take advantage of.
These are Brazil, China, Colombia, Egypt, Hong Kong, India, Indonesia, Malaysia, Mexico, Qatar, Russia, Saudi Arabia, Singapore, South Africa, South Korea, Taiwan, Turkey, UAE and Vietnam.
---
Follow @shanecroucher