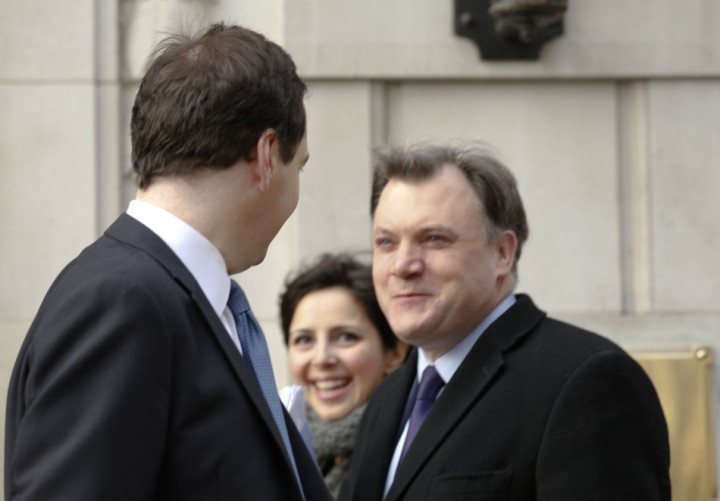 Britain looks to have escaped the looming threat of a triple-dip recession as a first-glance at the incomplete official GDP data suggests the economy grew 0.3 percent in the first quarter.
Driven mostly by the service sector, which accounts for around three quarters of GDP, the positive number is a significant political victory for Chancellor George Osborne. However, the underlying economic reality is still as stark as before, even without an unprecedented third slump before a recovery.
Since the figures emerged, which are subject to change in the Office for National Statistics' second estimate, a number of leading commentators and politicians have chipped in to the debate over the state of the economy. Here's a round-up.
Mark Littlewood, director general at the Institute of Economic Affairs
We are in danger of meagre growth becoming the new normal. Poor GDP figures in the first quarter of this year only underscore the extent of the UK's long-term growth problem.
The Chancellor cannot keep postponing the urgent need for radical action to bring both spending and taxation under control. His current plan will add £4,000 to the national debt for each and every household in the country. This is far from a programme of austerity. We are, in fact, continuing to live far beyond our means.
Regulation is strangling the economy, whilst high marginal tax rates are disincentivising people from working, saving and investing. The government must reduce spending, cut taxes and enact key supply-side reforms to encourage business and enterprise. For a growth revolution, we need a policy revolution.
Ed Balls, Labour's shadow chancellor
These lacklustre figures show our economy is only just back to where it was six months ago and continue the picture of flatlining we have seen since the last spending review. David Cameron and George Osborne have now given us the slowest recovery for over 100 years.
This stagnation in our economy is the reason why people are worse off than when this government came to office. They took an economy that was starting to grow strongly, with falling unemployment and a falling deficit, and delivered stagnation, rising unemployment and £245bn more borrowing than planned. The government's economic policies have failed and Britain's families and businesses continue to pay the price.
If we're to have a strong and sustained recovery, and catch up all the ground we have lost over the last few years, we need urgent action to kickstart our economy and strengthen it for the long-term - as Labour and the IMF have warned.
We need radical bank reform and a jobs and growth plan, including building thousands of affordable homes and a compulsory jobs guarantee for the long term unemployed. And instead of a tax cut for millionaires, we need a lower 10p starting rate of tax to ease the squeeze on millions of people on middle and low incomes.
The longer we continue to bump along the bottom the more long term damage will be done. Britain's struggling families and businesses cannot afford another two years of this.
John Cridland, director-general of the Confederation of British Industry
This is a welcome uptick which confirms our view that 2013 will see real growth.
The broad-based pick-up in the services sector is an encouraging basis for further organic growth.
What Britain's economy now needs to see in the coming months is a recovery in manufacturing output, helped by a brighter global outlook.
The government must build on these emerging signs of confidence by getting behind Britain's entrepreneurs and exporters.
Richard Driver, currency analyst at Caxton FX
This figure really did surprise us; I don't think we were the only ones thinking that the risks of a surprise were skewed to the downside.
The services sector remains the UK's key growth engine but it was encouraging to see the production industries offer some upside as well.
With the eurozone recession deepening and the global climate looking gloomy in general, I don't think many people are expecting UK growth to kick on from here.
However, it was crucial for confidence that the UK avoided a triple-dip and it makes a QE response from the BoE considerably less likely in May.
It will be a huge relief to George Osborne and puts him in a stronger position to defend his austerity programme.
Major risks still hang over the UK economy but this certainly brightens the outlook for sterling a little.
Chancellor George Osborne
Today's figures are an encouraging sign the economy is healing. Despite a tough economic backdrop, we are making progress.
The deficit is down by a third, businesses have created over a million and a quarter new jobs, and interest rates are at record lows.
We all know there are no easy answers to problems built up over many years, and I can't promise the road ahead will always be smooth, but by continuing to confront our problems head on, Britain is recovering and we are building an economy fit for the future.
Tony Dolphin, chief economist at the Institute for Public Policy Research
While attention around the release of this growth number has naturally focused on whether or not there would be a triple-dip, we should not forget the bigger picture: the UK economy is stuck in a rut.
Real GDP has increased by just 0.4 percent in total over the last two and a half years and it remains 2.6% below its peak level, reached five years ago in the first quarter of 2008. Normally, we would expect the economy to grow by around 12 percent over any five year period.
The fact that it has contracted by 2.6% instead means almost 15 percent of potential output has been lost, along with the employment opportunities and tax revenues that would have accompanied it.
Rather than change its fiscal policy, the government continues to rely on monetary measures to get the economy growing again, despite the evidence of the last few years suggesting that they are largely ineffectual, on their own. Much hope is being pinned on the arrival of Mark Carney as the new governor of the Bank of England in July, though little is said about what he might actually do.
Even if he could cajole two more members of the Monetary Policy Committee into voting for an increase in the scale of the bank's quantitative easing programme, we have probably reached the point where additional QE is producing much-diminished returns.
TUC General Secretary Frances O'Grady
The chancellor has set the economic bar so low that avoiding the UK's first ever triple dip recession is considered good news.
Today's figures have taken us back to where we were six months ago, and not much further on from when the chancellor started his austerity experiment.
The economy is flat-lining, unemployment is growing and the much-needed rebalancing of the economy, away from financial services and the South East, has failed to materialise.
It's no surprise we face a housing shortage when the construction sector is now nearly 10 percent smaller than when the Chancellor took office.
The government's economic policies are still failing on every measure that matters to people.
---
Follow @shanecroucher