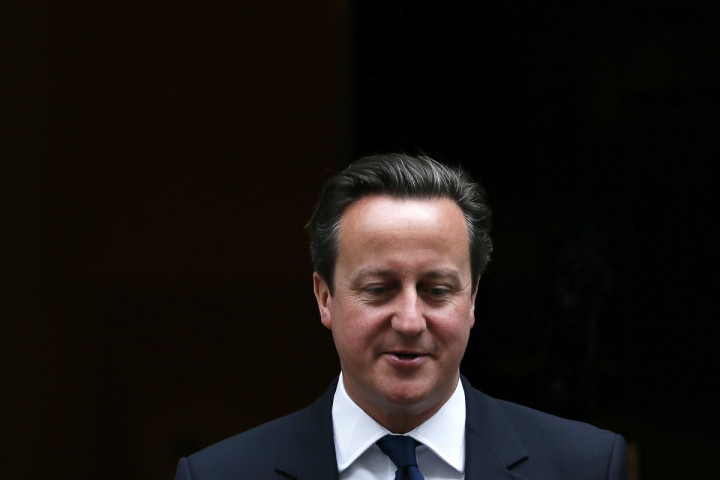 You can almost hear David Cameron in Number 10 rehearsing his over-used 'Long Term Economic Plan (LTEP)' riff ahead of Prime Minister's Questions. But the Conservative Prime Minister will be sure to remind himself, after learning that the UK's unemployment rate has dropped to a five-year-low of 6.6%, that there is "still work to be done".
Let's hope there is sincerity behind the "more work" refrain.
That's because real wages shrank as average weekly earnings increased by just 0.7% in the three months to April, against Consumer Price Index (CPI) of 1.8% over the same period [Fig 1].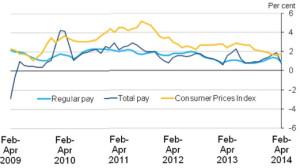 The figures from the Office for National Statistics (ONS) should worry Chancellor George Osborne.
It's an indication that the plan isn't working – at least not for the workers missing out on a much needed pay rise.
As Dr John Philpott, Director of The Jobs Economist, sums up the situation: "loads more work, but no greater reward".
Ed Miliband, leader of the Labour Party, will no doubt pick up on this point. His party has continued to assault the Coalition with a "cost of living crisis" campaign. The attack line lost its penetrating power recently after official figures showed that real wages were beginning to rise.
Miliband also made matters worse after a hapless appearance on ITV's Good Morning Britain by significantly under-estimating the cost of his family's weekly food shopping.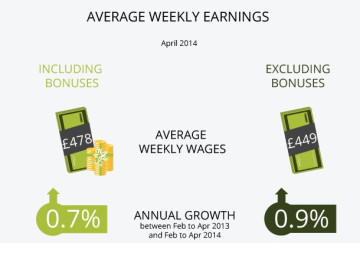 Accusations such as "out of touch" were levied against the Labour leader. But the most recent wage figures will provide much needed relief for the Labour leader as he has been handed some weapons-grade data to bolster the "cost of living crisis" mantra.
The UK's labour market revival also seems to be leaving the young behind.
The new ONS data shows that there were more than 850,000 16 to 24-year-olds out of work in the three months to April – producing an 18.5% youth unemployment rate [Figure 2]. Both figures have improved on the previous month, but Britain is still miles behind Germany.
Europe's largest economy, and allegedly one of UK's competitors, which registered a youth jobless rate of 7.9% in the three months to April – that's 10.6% lower than Britain.
The significance? Osborne has a "lost generation" on his hands.