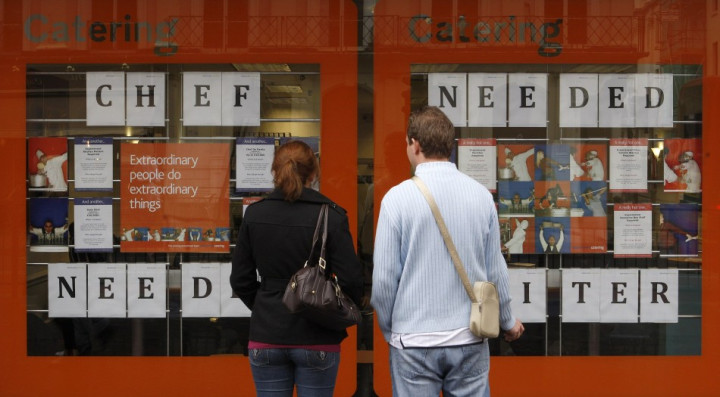 Britain's unemployment rate fell in the final quarter of 2012 and the number of jobless claimants plunged despite the economy contracting by -0.3 percent and the threat of a triple-dip recession looming overhead.
In the three months from October to December, 7.8 percent of the economically active population were out of a job, down 0.1 percent on the quarter before, reported the Office for National Statistics (ONS).
There were 2.5m unemployed people in the UK, however new statistics show that the number of people in work rose to the highest levels since records begain in 1971, reaching 29.73m.
Job Seekers Allowance claimants also fell in January, down by 12,500 on the month before.
The UK employment rate grew by 0.3 percent in the same quarter, to 71.5 percent, or 29.73m people.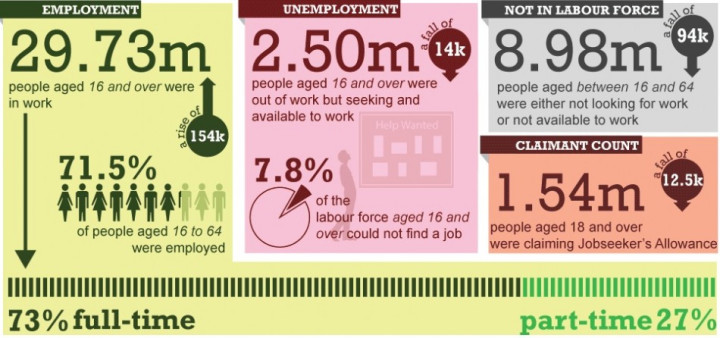 Many point to the sturdy employment figure as evidence that the labour market is robust despite the struggling economy.
However, those who work more than an hour a week are accounted for in the official employment number, as are people on unpaid government back-to-work schemes, and those who work in family businesses and benefit from the profits but do not necessarily derive an income.
Despite this, the number of people working full time increased by 394,000 on the same quarter a year before, said the ONS, while the number of part-timers rose by 190,000.
"The more recent increases in full-time employment have not offset the falls that occurred through the 2008-09 recession," said the ONS.
"For the most recent period in October to December 2012, full-time employment was 378,000 lower than in April to June 2008, the first quarter of the 2008-09 recession. Part-time employment was 572,000 higher compared with the same period."
It is temporary positions and weak wage growth underpinning the employment levels, according to the Chartered Institute of Personal Development and consultancy KMPG in their latest Labour Market Outlook report.
They predict an increase in staffing levels across the first quarter.
ONS data shows wages growing by just 1.4 percent, including bonuses, as earnings continue to be outpaced by price inflation, which has stuck at 2.7 percent for four consecutive months.
Gripped by stagnant wages and a high cost of living, average earnings are now at the same level in real terms as they were a decade ago.
The number of underemployed people in the UK economy - those who want to work more hours, but can't - has soared by 1m since the financial crisis.
---
Follow @shanecroucher