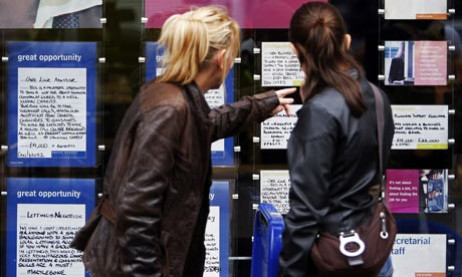 Unemployment in the UK has fallen to a rate of 7.8 percent in the three months to September, though those claiming out of work benefits shot up by 10,100.
There are now 2.51m of the economically active population who are jobless, reported the Office for National Statistics (ONS), in the aftermath of an employment boost from hosting the London 2012 Olympic Games.
Employment continued its upward trend and hit a rate of 71.2 percent in the three months to the end of September, with 29.58m in work.
This is up 100,000 on April to June and an increase of 513,000 on a year earlier, the biggest rise since 1989.
Mark Hoban, the government's employment minister, told Reuters TV that the data "demonstrated to me that people who are looking for work in the UK see the jobs opportunities out there."
"People before perhaps didn't want to work, or who weren't interested in working, now see that they can and we can see that from these figures," he said.
Pressed on the worsening outlook for the country's economy, Hoban would not be drawn on if he thinks the unemployment rate will start to rise again.
"What I'm focused on is making sure that we do all that we can to get people into work. We're doing this against a difficult backdrop," he said.
Britain is braced for global macroeconomic headwinds that may gust in the country's direction that could threaten the relatively robust jobs market, which held up despite three quarters of recession.
In the third quarter of the year the UK exited recession with 1 percent growth, bolstered by London 2012 and a positive base effect in the data.
Unresolved crisis in the eurozone, the "fiscal cliff" in the US, and slowing growth across key emerging markets such as Asia have led to a worsening outlook for the British economy.
Several leading forecasters have downgraded their 2012 and 2013 estimates for UK growth in recent months, including the International Monetary Fund (IMF) and Bank of England, despite a stout jobs market and slowly improving domestic picture.
Some economists expect unemployment to spike in the coming months as wider global economic woe bites down on Britain.
Inflation sits at 2.7 percent after following a general downward trend towards the government's 2 percent target over the past year.
Bank of England policymakers have a £375bn quantitative easing programme in place, though they may extend this by a further £50bn because of their deteriorating forecasts for the economy.
They have been wary in the past of the potential to push up inflation through their stimulus and the subsequent risk of increasing unemployment off the back of it.