UK unemployment has fallen to 2.65m in the three months ending in February, to a rate of 8.3 percent, according to the Office for National Statistics (ONS).
It is down 35,000 on the quarter and is the first quarterly fall in unemployment since the three months to May 2011.
In March unemployment was 2.67m at a rate of 8.4 percent.
Youth unemployment has also fallen. The number of unemployed 16 to 24-year-olds was 1.03m, down 0.1 percent to a rate of 22.2 percent.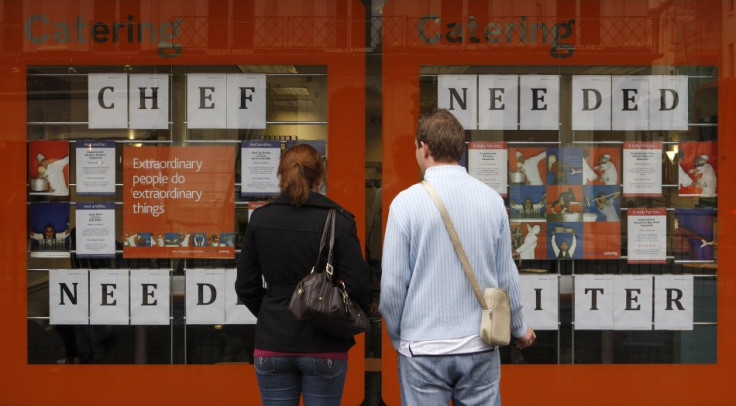 "If you look at the longer-term picture, unemployment rose quite strongly during the summer of last year, then the increases tailed off a bit towards the end of the year," Nick Palmer from the ONS told the BBC.
"So despite this latest decrease, the level of unemployment is significantly higher than it was a year ago, in fact it is some 170,000 higher than it was at the same point a year ago."
Chris Grayling, the government's employment minister, told the BBC News channel that more people are returning to work.
"Some of those moving into part-time work we know are women who either have got children and are coming back into part-time work because they are at school, or who are older and the children are grown-up and are coming back into part-time jobs," he said.
"There are more of those in the workforce today than there were a few months ago,"
Unemployment in Britain rocketed after the financial crisis in 2008 and has steadily crept higher since August 2009.
It is predicted to hit 3m out-of-work in 2013, with the opposition Labour Party declaring it an "unemployment emergency".
Pitiful increases in private sector employment have failed to fully offset the jobs contraction brought about by government austerity, which has seen swaths of public sector posts stripped away.
This has then had a knock-on effect to the private contractors that relied on the public sector as a significant revenue stream.
A recent Ernst & Young forecast for the UK economy accused big businesses of hoarding cash gifted to them by the Bank of England's quantitative easing programme, rather than investing it in jobs creation and growth.
"The corporate sector is accumulating cash at an astonishing and accelerating pace and acting as a major drag on the rest of the economy, keeping it close to stall speed," the report said.
High inflation, stagnant wages, rising energy bills, and high unemployment have dampened consumer spending, which is also hurting the economy.
Inflation is forecast by the Bank of England to hit the government's 2 percent target by the end of the year, but a surprise March rise in the CPI figure has cast some doubt over this prediction.
March inflation is 3.5 percent, up from 3.4 percent the previous month.
It ended a five-month decline in inflation from its September peak of 5.2 percent.
This has all-but-cemented economists' predictions that the Bank will not expand their quantitative easing programme from its current £325bn target when the latest round of stimulus ends in May.