UK vs Isis: WW2 level of leadership and more air strikes needed in Syria say ex-defence chiefs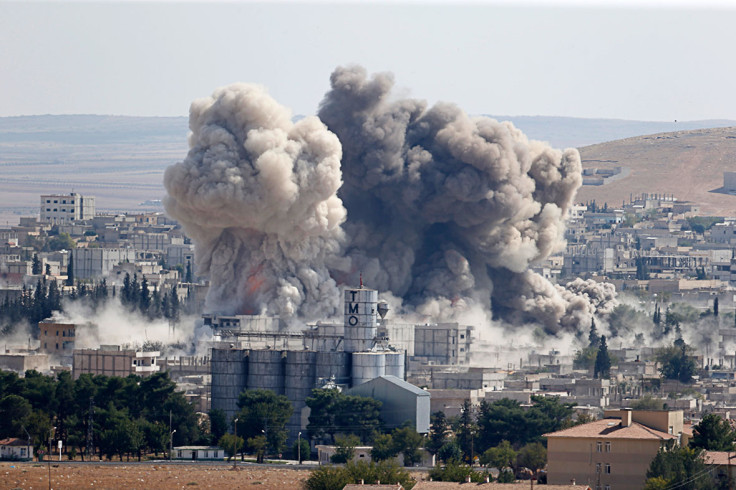 Britain should be doing even more to fight Islamic State (Isis) in war-ravaged Syria, two ex-defence chiefs have urged. Their calls arrive on news that Royal Air Force pilots are flying bombing missions in Syria despite a 2013 House of Commons vote against the action.
"What we need to do is change some of our absurd policies," said Conservative MP Liam Fox, the UK's Secretary of State for Defence from 2010 to 2011. Fox said this includes "our nonsensical military policy of bombing IS, but only in Iraqi territory, not across the non-existent border in Syria. This is one of the daftest policies I can ever remember."
Fox spoke Thursday night (16 July) at London's International Institute for Strategic Studies while discussing key defence and security issues facing the UK.
Lord David Richards, the UK's Chief of Defence Staff from 2011 to 2013, and a senior advisor at the International Institute for Strategic Studies (IISS), echoed Fox's dim view of current policy.
"We've been told that IS is the struggle of our generation. What I want to see is the strategy that will deliver on that vision, and I don't see any of that. In the context of IS we need a scale of vision, a scale of statesmanship, of commitment that was required to fight World War Two. That's what I say Britain could do now in the context of IS."
In August 2013, the House of Commons voted against military action against Syrian President Bashar Assad's forces after Prime Minister David Cameron backed air strikes on the regime. On 26 September 2014, MPs voted to support US air strikes against IS, but only in Iraq.
On Friday, a Freedom of Information request lodged by the human rights NGO Reprieve revealed that, despite this, UK pilots are embedded as foreign troops with coalition allies such as the US and Canada flying missions against IS in Syria.
Current Defence Secretary Michael Fallon said in early July that he wants MPs to support air strikes in Syria against IS.
The IS terrorist organization is increasingly destabilizing gulf nations and the rest of the Middle East, said Richards. He called fighting the group "not just urgent from a British domestic point of view [but] urgent from a genuinely geostrategic perspective, and we need to get on and deal with it."
The UK economy is dependent on global stability for trade, Fox pointed out. "In an increasingly globalised environment that you can opt-out on your international security obligations is profoundly absurd," he said.
Arab nations must step up to the fight
The UK is currently the second largest contributor to air strikes against the IS fighters, carrying out 4% of missions. The US runs the bulk of the missions, contributing 92%. Those remaining are carried out by Arab nations and other coalition partners.
"This is their territory, this is their region, they need to step up to the plate and do more," said Fox.
Richards laid out his ideal strategy. "I would like to see [the UK] lead a movement that combines many, many nations to fight IS properly. And I think that should be reflected in the national security strategy."
But before going to Syria, he proposed revisiting Afghanistan. "IS is now in Afghanistan. The degree to which, we don't really know. A very good roll for Britain and our allies to play is to prevent Afghanistan from going down the tube, before doing anything in the context of Iraq and Syria."
© Copyright IBTimes 2023. All rights reserved.