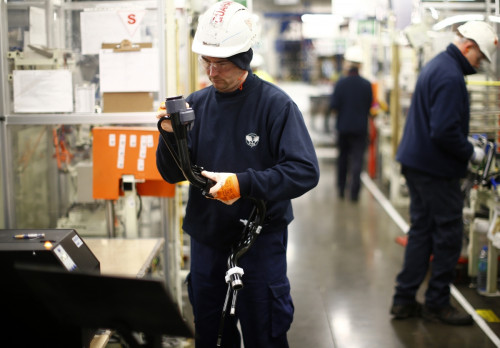 Britain's squeeze on wages will ease in 2014 as more than half of UK businesses plan to increase workers' pay during the year, according to a survey.
The Barclays Employers Survey 2014, which polled 684 firms, found 57% of respondents said they would lift wages in the coming year. A further 39% said the whole workforce would be in for a pay rise.
Wages are at the centre of a political debate around what the opposition Labour party has dubbed the "cost of living crisis". For several years after the financial crisis, pay growth has been slower than consumer price inflation – meaning a real terms fall in wages.
"After an extended period of wage freezes, which have been tough for employees, it's good to see that so many employers will be increasing wages in the coming year," said Kevin Wall, co-head of corporate banking origination at Barclays.
"This can only have a positive impact on employee morale. However, it will increase inflationary pressure as the year progresses."
Signs that wages will rise more quickly are welcome in the eyes of the Conservative and Liberal Democrat coalition government.
They are under attack from Labour that the emerging UK economic recovery is not filtering down to the masses' pockets.
Pay growth is at an annual rate of around 0.8%, according to the Office for National Statistics (ONS), against inflation of 2%.
Chancellor George Osborne said he has written to the Low Pay Commission suggesting there should be an above-inflation hike in the National Minimum Wage. He said the recovery means the "economy can afford it".
He is also lifting the personal allowance – the earnings threshold at which an individual starts paying tax – to £10,000 in the 2014/15 financial year. It will rise by inflation each year after that.
Ed Miliband, Labour leader, said his party would freeze energy prices, offer better childcare support so parents could go to work, abolish the bedroom tax, which reduces housing benefit for those with spare rooms, and increase the minimum wage.
Miliband said the cost of living crisis is still the "single biggest challenge our country faces" despite the apparent recovery.