UK weather forecast: London travel chaos looms as Storm Barney hits capital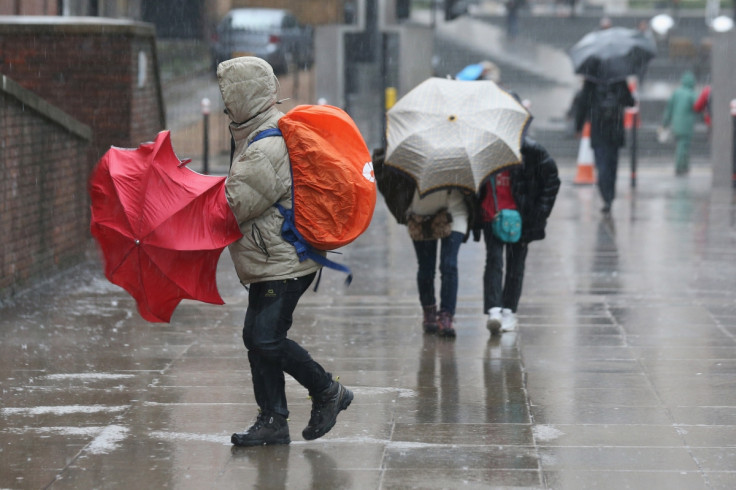 London will face gale force winds and heavy downpours on 17 November as Storm Barney batters southern parts of the UK and Wales. Gusts of up to 70mph could hit the capital, posing a risk of falling trees, power blackouts and flight delays.
Barney is the second storm to be named by the Met Office this season, just one week after Storm Abigail battered British towns, bringing heavy flooding and power outages to more than 20,000 homes. Similar disruption is expected in London this week, including flight delays and travel disruption on the roads.
A spokesperson for the Met Office said: "Be aware of the risk of disruption to travel and that gusts of this strength could bring down trees and lead to some damage to weakened structures."
Weather warnings
A yellow warning for wind was issued in London as #StormBarney began trending on Twitter on Tuesday morning. The yellow 'beware' warning comes into force at 4pm on Tuesday afternoon and is expected to last until 2am on Wednesday morning. The winds are expected to ease up only after midnight in eastern regions of the country.
Sky News weather producer Joanna Robinson said: "Southern parts will bear the brunt, although there is still a great deal of uncertainty in the storm track and the intensity of the winds."
Weather warnings for heavy rain are also in place after Storm Barney clears from UK skies on Tuesday night.
Flight delays
Forecasters have warned that the strong winds could disrupt flights from Heathrow and Gatwick airports on Tuesday evening. Heathrow Airport is urging customers to check their flight details before travelling as dozens of flights have already been cancelled in an attempt to limit disruption later in the evening.
British Airways has cancelled 26 flights, while partner Aer Lingus has cancelled two round-trips between Dublin and Heathrow. Lufthansa and SAS have cancelled two flights each as well.
Road safety
With Storm Barney expected to hit the capital shortly before the evening rush hour begins, motorists have been warned over the risk of travel disruption on the roads. Automotive services company RAC has noted that as Barney is expected to affect drivers further south than Storm Abigail did, many in London will be facing their first experience of strong autumn winds.
Simon Williams, spokesperson for RAC, said: "We urge anyone on the road in the thick of the storm to slow down and leave plenty of space behind the vehicle in front."
RAC's guidelines on driving during windy weather advise motorists to drive slowly to cope with the strong gusts as "high winds can get under a car and affect its handling and braking significantly". They have also advised people to hold the steering wheel firmly and prepare for unexpected gusts that could hit the vehicle.
Although there are no severe rain warnings in place in London, some downpours are expected throughout the evening. Williams has also warned motorists of the risk of flooded roads and driving through water.
"Motorists should resist the temptation to drive through standing water unless they are sure it is shallow enough to get through safely, otherwise it could prove to be a very costly mistake."
Power outages
After Storm Abigail shut down electricity in thousands of homes last week, London now faces the same threat. In case of a power outage, Londoners can call UK Power Networks, who look after electricity cables in London, the south and south east of England.
The agency has advised Londoners to stock up on materials that they may need during a power outage, such as candles, blankets and flasks of hot water. They have also asked people to look out for any vulnerable people, such as elderly neighbours.
"Hopefully there won't be any problems, but it's best to be prepared," said a spokesperson for UK Power Networks.
© Copyright IBTimes 2023. All rights reserved.