Britain saw the warmest November day on record as temperatures reached 22.4C in Wales on Sunday. The previous November record was set on 4 November in 1946, when temperatures reached 21.7C in Prestatyn, Wales.
Southerly winds and a high-pressure system will bring unusually warm weather through the rest of the week, with highs of 17C expected in parts of the southeast on Friday. The average UK temperature for November stands between 10C in the north and 15C in the south, pushing back the "winter freeze" predicted by forecasters earlier in the year.
The mild weather conditions come alongside severe weather warnings for fog issued by the Met Office. The hashtag #foggy was trending in the UK on Monday morning as thousands took to social media to post pictures of the conditions, with Britain's airports cancelling hundreds of flights.
While the Met Office fog warnings were only expected to be in place until midday on Monday, thick fog appeared to remain over parts of the country. Heathrow Airport announced on Twitter at 12:23pm that passengers could still experience disruption and urged them to check with their airlines before travelling to Heathrow.
The announcement read: "We are continuing to experience reduced operations due to fog across the UK and Europe, which is expected to last into tomorrow."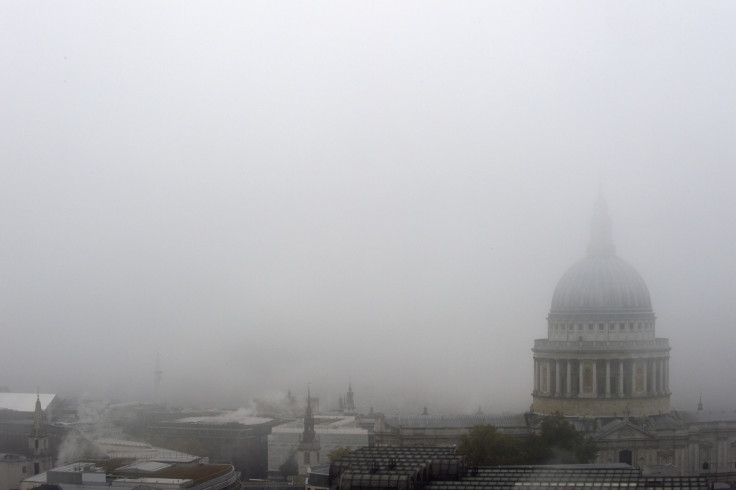 The unseasonably mild temperatures mean that the UK is warmer than Rome, Lisbon and Barcelona. The Met Office has also said there is a 30% chance that Sunday's record temperatures could be broken on Monday as the fog clears and temperatures rise.
However, the British public is urged to enjoy the mild weather while it lasts as Wednesday and Thursday could see wet conditions, with rain for much of the country.
Earlier this year experts warned that the strong El Nino was to bring the coldest winter Britain has seen in 50 years, which was due to hit the country "as early as October".
Forecasters feared a repeat of 1983 when the worst winter in history saw temperatures plunge to nearly -20C in January. According to reports, snow blanketed the country for weeks and the River Thames froze.
However, a spokesperson for the Met Office dismissed any cold spells for the moment, saying: "The generally mild theme looks likely to continue. The extent and degree of warmth will be affected by how much cloud cover there is, however, there will be some decent bright or sunny spells."