UK weather: One dead in London as Storm Desmond shuts down schools and hospitals in England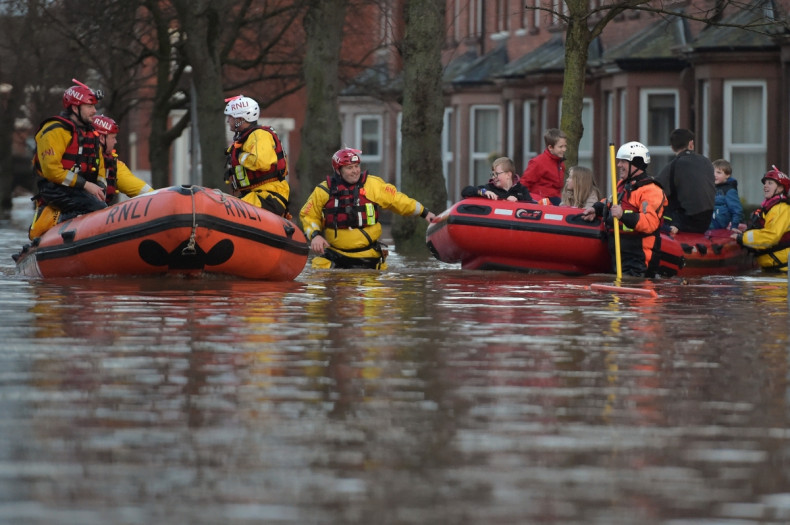 Storm Desmond has continued to wreak havoc across the UK, shutting down dozens of schools and hospital services in parts of northern England and forcing thousands to evacuate their homes in Cumbria.
A 90-year-old man is believed to have died after he was blown into the side of a moving bus by strong winds. The incident took place near Finchley Central Tube station in London on 5 December, a representative for the Metropolitan Police confirmed.
Nearly 50 severe flood warnings were in place on 7 December for parts of north-west England, while severe weather warnings for rain have been issued for parts of Scotland, England and Northern Ireland throughout the rest of the week. Forecasters have warned that rescue efforts could be hampered by more persistent rain, which is due to hit Scotland, north-west England and Wales from late afternoon on 7 December, bringing up to 50mm of rainfall in some areas.
A representative for the Met Office said: "While this rain will neither be as heavy nor as prolonged as recent rain, please be aware that in view of the saturated nature of the ground and high river levels further localised flooding and disruption to transport is possible."
Travel chaos loomed during the Monday morning rush hour as Network Rail reported that widespread disruption to its services in northern England could last for several days. Bridges in Cumbria have reportedly been washed away and some train lines submerged under 8ft of water. The East Coast Main Line, which connects London to Scotland, is running as normal but is expected to be busier than usual.
Thousands of homes in Cumbria and Lancashire faced power blackouts, with Lancaster University being forced to cancel classes for the rest of the term and postpone end of term assessments. Nearly 60,000 homes in northern England were left without electricity and clean water, while Electricity North West said that around 10,000 homes remained without power in Lancaster on 7 December. The company had already restored power to 45,000 homes in the area.
The army was deployed on 6 December to assist with rescue efforts while Prime Minister David Cameron called a Cobra meeting to discuss those affected by the storm. He has announced that he will be visiting some of the worst hit areas on 7 December. Cameron said: "I would like to pay a huge tribute to all those emergency workers and troops who have worked tirelessly to respond to this weekend's events."