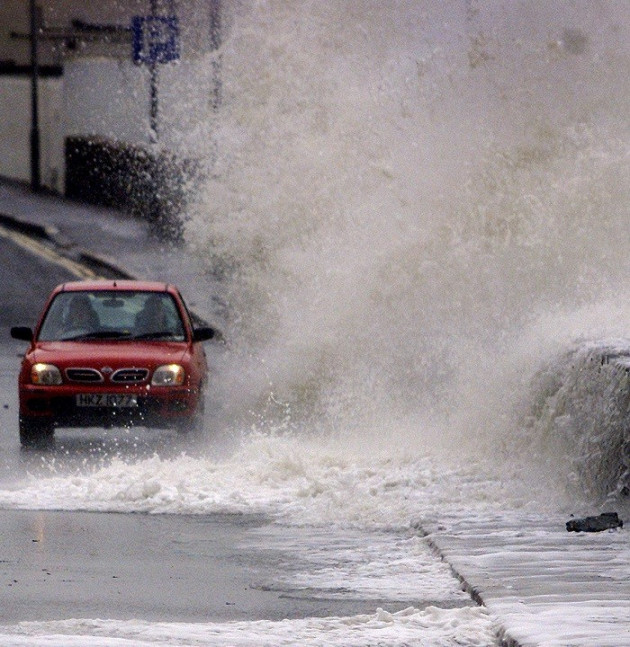 More than 1,000 homes are without power in Pangbourne, Berkshire, after a falling tree brought down a power line, with disruption spreading on UK roads and rail services.
Fierce winds have also been reported in other areas, with a wind turbine collapsing in Devon on Saturday night.
Transport for London, which runs public transport in the capital, has said it is putting into action "well-rehearsed plans to minimise disruption".
South West Trains has advised people to make only necessary journeys, as it was operating a "significantly reduced timetable" and some trains would run at reduced speeds.
Southern said its services - including the Gatwick Express - will not start until 9am or 10am on Monday, a move designed to "give Network Rail the chance to clear the tracks" because of storm debris. It will also run fewer trains than usual.
A spokesperson said: "On our Tube and rail networks we have extra staff in place, additional leaf and vegetation clearance alongside tracks, and teams on standby to respond to heavy leaf fall, to fallen branches or other issues."
The Prime Minister revealed on Twitter that emergency plans are in place: "I've just chaired a call with various government departments and agencies to hear about all the plans to ensure people are protected from tonight's storm."
The AA said there could be "significant travel disruption on Monday morning", and the storm's timing "couldn't really be worse" for motorists at one of the busiest times on the roads - a Monday morning at the start of a school holiday period.
"What's important is to keep up to date with the weather forecast and traffic reports and prepare for the unexpected," a spokesman for the AA added.
Martin Hobbs, head of asset resilience at the Highways Agency, said: "Be aware of sudden gusts of wind and give high-sided vehicles, caravans, motorbikes and bicycles plenty of space."
Airports including Heathrow and Gatwick are warning of possible disruption to flights and are advising passengers to check with airlines before starting journeys.
The storm forecast has also caused the cancellation of ferry services on Sunday and Monday between Plymouth and Roscoff as well as Penzance and the Isles of Scilly.
Brittany Ferries, which runs the Plymouth-Roscoff route, said on its website: "We are in the process of contacting all passengers booked on these sailings. We apologise for the inconvenience the cancellation of these services will cause."
The storm is expected to be the worst to hit the UK in five years, and veteran weatherman Michael Fish told the Daily Mirror that it "could be very dangerous". Fish is famous in the UK for failing to predict a storm in October 1987, which wreaked havoc.