Severe weather warnings have been put in place for strong gales and rain ahead of Storm Gertrude hitting Britain on Friday (28 January 2016). The Met Office has warned that winds of 60-80 mph are to hit western and southern Scotland, the far north of England and Northern Ireland by the morning, bringing with it the possibility of hazardous travelling conditions and structural damage.
Further north in the Northern Isles, winds could reach up to 90 mph, which could also bring disruption to power in the area. The Met Office is also warning that large waves could hit around western coasts on Friday morning, with heavy rain and surface water providing additional hazards.
Chief operational Meteorologist, Paul Gundersen said: "A rapidly deepening area of low pressure is expected to bring a spell of severe weather across northern Britain on Friday. There remains some uncertainty over the exact track and intensity of the storm, so people are urged to keep up to date with the latest UK-forecast and severe-weather warnings so they can prepare for the weather.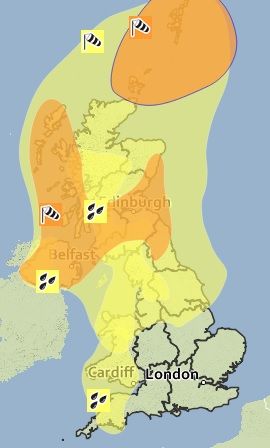 "However, there is higher confidence now in the likelihood of a period of very strong winds early on Friday, with a spell of storm-force winds across the Northern Isles."
In Scotland, people are being warned to expected trains to be cancelled or severally delayed as a result of the weather. The Scottish Borders Council have also warned of the potential for some floodings. Jim Fraser, the council's emergency planning officer, said: "Given the number and content of the weather warnings issued, and the current ground conditions, we are preparing for a significant and extended-weather event across the region.
"The council and partner agencies are doing our very best to plan for the potential impacts of Storm Gertrude and would urge residents to make sure they are fully aware of the forecasts and take all necessary steps to prepare themselves.
"Travel disruption is almost inevitable given the weather forecast we have been provided with and it may well be that Police Scotland advise during the upcoming days that travel should only be undertaken if absolutely necessary."