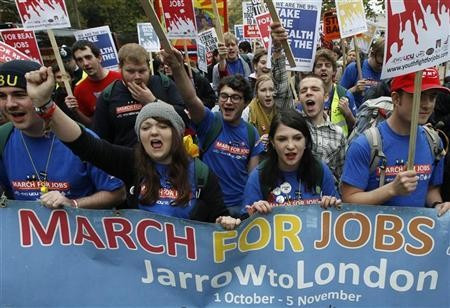 In times of such uncertainty, where every pound counts, the youth of this generation is finding it harder and harder to find work.
What can be done? Is there anyone willing to help? Is all hope lost?
According to UK government statistics, in the period from December 2012 to February this year, 979,000 young people aged 16-24 are unemployed.
This is up 20,000 on the previous quarter but down 46,000 on the previous year.
The unemployment rate for those aged 16-24 was 21.1%, up 0.6 percentage points, compared with the previous quarter but down 0.9 percentage points compared with the previous year.
These are very worrying figures, for not just for the whole country but for us- the youth of this generation trying to find a career and to make something of our lives.
Striving Against the Odds
At the age of 25, I am one of the thousands, if not millions, of Britain's younger demographic trying to navigate through the recession to find a job over the last few years.
However, six years on since the onset of the credit crisis, I am a Heritage Bricklayer & Blogger from Harrogate, North Yorkshire.
I am a fully trained and award-winning bricklayer and former Prince's Foundation Scholar.
But, all this didn't come easy to me.
At the age of 15, after being kicked out of two schools for various issues, I got offered a chance of a plumbing apprenticeship, an opportunity that I grabbed with both hands.
Although this didn't completely work out, I pushed myself and managed to find my forte - bricklaying.
Since then I have never looked back.
As part of showcasing my work and expertise, I used various means to make new opportunities for myself.
For example, over the past three years, I have been documenting my work on my site The Apprentice-Ship and the response has never failed to amaze me.
I never thought people would be interested in my work or rambling but it shows that you have to go that one step further to get ahead in Britain's beleaguered job market.
In fact, recently was asked to be a key note speaker at Heritage Hub AGM, where I spoke about myself and work in front of some very influential people in the Heritage world and the opportunities just keep popping up.
There is Always Hope
I regularly receive emails from young people asking for advice with apprenticeships and I am very happy to help.
If anything, it is a great honour, to be asked.
None of this would have been possible if I had said "no," all those years ago, to the apprenticeship.
To all those struggling to find a path to follow - do not give up - and fortunately there is a light at the end of the tunnel.
There are some very generous and kind people still out there trying to improve the situation.
For example, there are organisations such as Bricks and Bread, which offer start up loans to young entrepreneurs and free advice sessions for people aged 18-30 who want to start their own business.
Another would be Youth Employment UK, an organisation dedicated to help increase the number of young people in employment in Britain, offering volunteering opportunities to young people who wish to gain work experience.
People like this are striving to help the youth push through these hard times and I for one can do nothing but thank them for all their help.
The opportunities are out there, if you're willing to put the time and effort in to find them.
I personally would recommend trying to gain an apprenticeship and learn something new.
If this means taking the time to volunteer in your local community to gain some experience, working for free with a local company, or simply by sending some tweets expressing your dreams and goal to companies, everything counts and you will succeed.
Although I included the statistics earlier in this article, I for one won't be taking much notice.
I believe that as a country we can work through this, we have done it before so why can't we do it again?
If you really want to achieve something in life you go out there and grab it, don't let these numbers get you down.
Samuel-James Wilson, 25, is a fully trained and award winning bricklayer who is also a blog writer where he documents his work on the Apprentice-Ship. Starting off as a simple online diary, it now receives thousands of hits each month.
Follow Samuel-James Wilson on Twitter @Samuelship