Ukip Civil War? Homophobic Rant Sparks Breakaway by 'Harder Nationalistic' Dissenters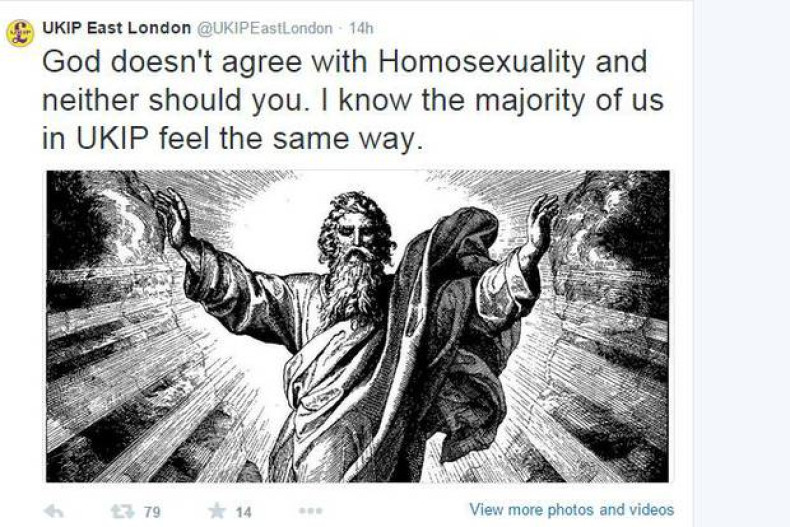 Has civil war broken our in Ukip with a section of the party breaking away to form its own far-right splinter group?
The east London branch has apparently quit Nigel Farage's fast-rising party following a Twitter homophobia row.
The embarrassing episode was triggered by a string of deeply offensive homophobic tweets published by Ukip's east London branch on Twitter.
Offensive messages condemned same-ex marriage, accusing lesbians of breaking God's law and insisting most Ukip members agreed.
Critics who condemned the tweet – which carried an Old Testament image of God, were branded "Marxist perverts" by the Ukip member.
Civil war quickly broke out as party bigwigs scrambled to silence the outburst. Ukip's deputy chairman Suzanne Evans demanded the resignation of the member who posted the tweets.
Unfortunately for the party - which is desperate to shed its image as a home for "fruitcakes, loonies and closet racists" – the rogue tweeter posted all about it on Twitter. Then came the schism, promising a "harder, more nationalistic" version of Ukip for disgruntled members.
Ukip headquarters attempted to distance itself from the rogue Twitter account, insisting no east London branch of the party existed. Yet it appears Evans did possess the contact number of the person in question.
A party spokesman said: "The Ukip East London Twitter account is not a Ukip account. We do not have an "East London" branch and nor would we in any way endorse the tweets it has made. We have taken steps to report it to Twitter as both misleading and malicious."