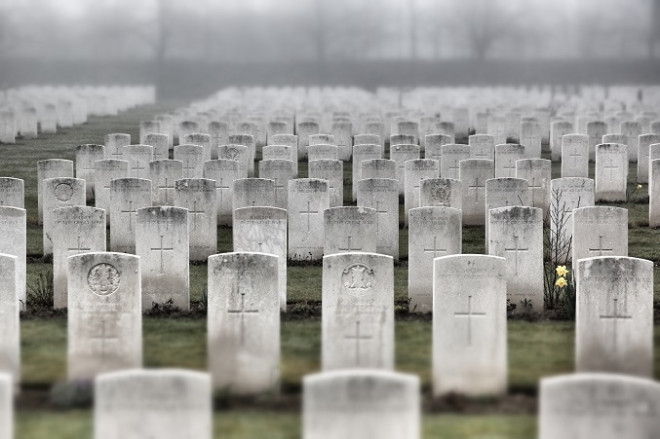 Ukip have been criticised for their "shameful" party leaflet which uses the graves of World War I servicemen to attack immigration.
The election poster, distributed in Devon, shows a photograph of British war graves in France along with the caption: "They fought and died to keep Britain free from foreign invasion and control by foreign powers.
"Don't let their sacrifice be in vain. Vote Ukip".
Politicians from rival parties condemned the poster and accused the party of exploiting the dead for their own political motives.
Labour MP and ex-Parachute Regiment officer Dan Jarvis told the Sun: "We should be honouring our fallen heroes respectfully in this important year of remembrance, not twisting their service for political purposes.
"Any attempt to invoke fears of 'foreign invasion' alongside images of war graves is offensive and irresponsible."
Others were also critical of the timing of the leaflets, with this year marking the 100-year anniversary of the start of the First World War.
Ukip previously faced criticism for a poster campaign which claimed "26 million in Europe are looking for work" and are after British jobs. Labour's Mike Gapes said the posters were created to "sow fear, animosity and hatred towards immigrants".
The latest controversy arrived after leader Nigel Farage was forced to backtrack on his remarks about Romanians. Farage was criticised for suggesting people would have a "perfect right" to be concerned if a group of Romanians moved in next door.
Prime minister David Cameron condemned Farage for his "pretty unpleasant" comments about Romanians, while Ed Miliband accused him of a "racial slur". Deputy leader Nick Clegg added his comments, highlighted in a radio interview for LBC, showed his "divisive, nasty approach" to politics.
Despite this, a TNS poll ahead of the European elections placed Ukip at the top in terms of voters' intentions with 31%, beating Labour into second place on 28%.