Nigel Farage has delighted Ukip's annual party conference with a pledge to win over Labour voters and seize the balance of power in Westminster at the next election.
In a rallying call to some 2,000 activists he said: "We are parking our tanks on the Labour party's lawn. We pose a threat to the entire British political class - and I will drink to that."
On the second day of a conference that has seen party spokesmen attempting to map out a comprehensive series of policies and shed its one-man-band image, Farage predicted the election campaign would be fought over Ukip's favourite policy of immigration and "borderless Britain".
And, in his most ambitious pitch yet, he said it was time to counter the notion that a vote for Ukip would let in either the Tories or Labour.
"The message must be...if you vote Ukip, you will get Ukip. We could even say to people - vote Ukip to hold the balance of power," and produce a change in the entire establishment culture in Westminster, he added.
The central message of the conference, being held at Doncaster race course near Ed Miliband's constituency, is that the party is now turning its attention to Labour and shedding its Tory-lite image.
He delivered a stinging attack on Labour, specifically claiming it was to blame for the Rochdale child abuse scandal out of fear of being branded racist.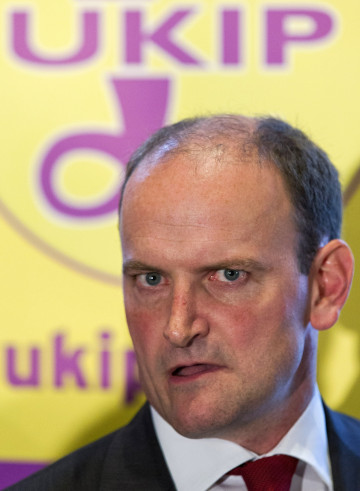 With the party apparently on course to win the Clacton by-election in two weeks' time, following the defection of Tory Douglas Carswell, Farage has focused on the contest in the Labour seat of Heywood and Middleton, being held on the same day.
And party activists are dreaming of pulling off a double-headed victory on 9 October to prove they are a threat to parties across the board and across the country.
To that end, Farage and his team unveiled a series of tax-cutting policies designed to show lower-paid workers would win out under Ukip, but which would also help the highest paid.
He also moved to ditch the party's previous policy on sweeping privatisation of the NHS, which would have been unlikely to attract Labour supporters.
But, even as Farage was attempting to prove Ukip had shed its old "fruitcake, loony and closet racists" tag and was now a grown-up party, he stood accused of engaging in a ludicrous, even offensive, conspiracy theory.
He suggested the prime minister had deliberately staged an emergency Commons recall to debate war in Iraq as a way of diverting attention away from his conference.
He said Cameron would "do anything he can to try to deflect attention away from UKIP.
"There was absolutely no earthly reason why it (parliament) couldn't have met yesterday," he said, ignoring the fact the request for help from Iraq had only come late on Wednesday and the practice is to give MPs 48 hours notice of a recall.
He also said the government's decision to raise the UK security threat level on the day after Carswell had defected to Ukip was also no coincidence.