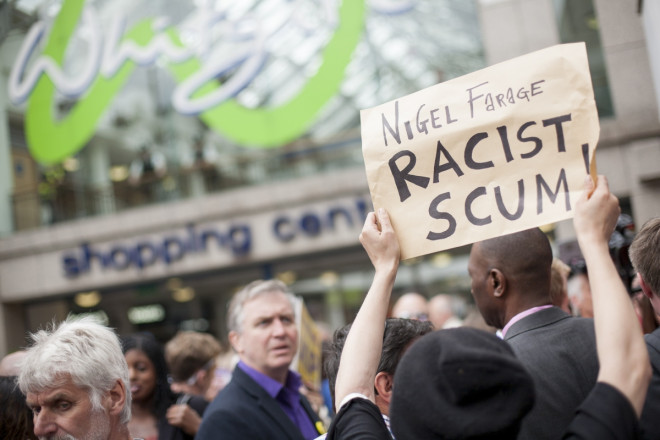 Nigel Farage, leader of the UK Independence Party, failed to turn up for the rally in Croydon, after clashes broke out between protesters and supporters of the party.
It was hoped the high-profile visit would boost Ukip's chances of winning a seat at the upcoming council elections, as well as draw support for Farage after he was criticised for comments about Romanian neighbours during an interview with LBC radio station.
The Ukip rally, which was held outside the Whitgift Centre, quickly turned into a shambles as two members of a hired steel band refused to perform, saying they felt uncomfortable about playing at the event.
Marlon Hibbert, of Jamaican descent, said he believed Ukip was racist and he had no idea that it was Farage's party that had made the booking.
Winston McKenzie, a Croydon council candidate for Ukip and one of the party's most prominent black activists, used a megaphone to announce he was proud to back the party.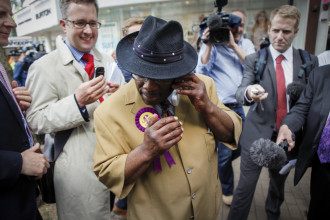 But as it became clear that Farage would not be attending, he denounced the town as "a dump".
When questioned as to why the Ukip leader had failed to appear at his party's rally, McKenzie said: "If he hasn't turned up he is a very sensible man. It just shows how successive governments have continued to fail communities like Croydon."
"Croydon, which was once the place to be, the place to shop, has now become, sadly, a dump ... How can you ask an international leader to turn up somewhere where he feels unsafe?"
As McKenzie was mobbed by the media and the public, arguments began to break out among Ukip supporters and critics, over whether Ukip's policies and its members discriminated against immigrants.
As reported by the Guardian, Anthony St Croix, a resident of the area, demanded to know why a Ukip candidate had made remarks about sending comedian Lenny Henry back to a "black country".
The event had been organised after Farage was met with criticism over his interview with LBC's James O'Brien. The Ukip leader attributed his comments to being "tired out" yet shortly afterwards, a full-page advert from Ukip appeared in the Daily Telegraph which featured alleged police statistics on Romanian criminals.
Speaking later on BBC's Newsnight, Farage admitted the information in the advert, which stated that 7% of all crime in the EU was committed by Romanian gangs, was incorrect.
Mr Farage said that what he meant to say was that 7% of criminal networks in the EU were Romanian.