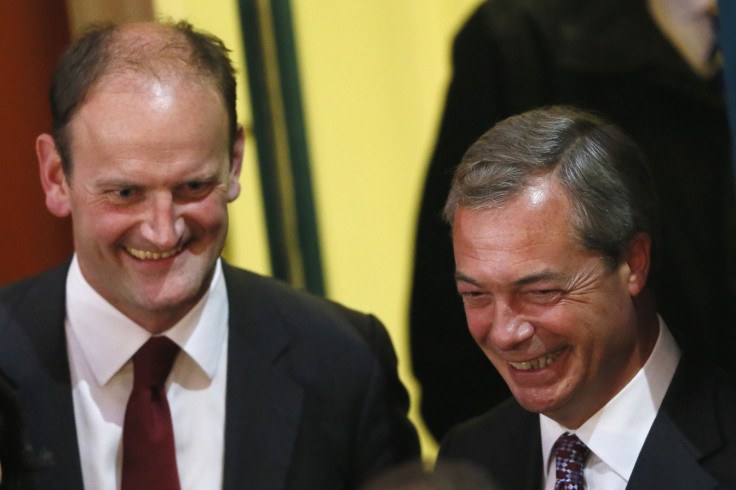 Ukip's only MP has said that embattled party leader Nigel Farage to "needs to take a break now" as the anti-EU group descended further into turmoil.
The comments came as the Daily Telegraph reported that Farage will assert his authority by sacking one of his former key allies Patrick O'Flynn after he called him a "snarling, thin-skinned, aggressive" man.
Douglas Carswell, the MP for Clacton, in Essex, wrote in The Times on Saturday 16 May that while he admired Farage, "At times, Ukip has failed to strike the right tone. By all means we should highlight the problem of health tourism. But we need to admit that using the example of HIV patients to make the point was ill-advised...
"Ukip has been at its most persuasive when we have been most optimistic. Anger is never a great way to motivate people - at least not for very long."
Noting that on Farage's watch, "has done extraordinarily well" – it received 12% of the vote in the 7 May general election - Carswell said that elections were "enormously stressful". He said that "Nigel needs to take a break now".
In a thinly veiled criticism of some of the people standing as Ukip MPs and councillors, Carswell said: "We need to look again at the way that we vet candidates."
Speaking about a future referendum on Britain's EU membership, Carswell appeared to strike a more moderate tone than many in his party.
Commenting that for the first time in a generation, there was a majority of MPs who favoured a referendum, the MP said: "Rather than automatically dismissing every idea for EU reform as necessarily bad, we should explain why we think we could do even better outside the EU."
"All of us UKIP supporters should ask one question; Is what I'm doing at this moment making an 'out' vote more likely? If it isn't, stop it and do something else."
Farage, who resigned after the election and then did a U-turn, has urged those who have attacked his leadership to either put up or shut up.
Speaking on BBC Question Time on Thursday 14 May, Farage said he had "phenomenal" support in the party, despite some officials quitting and top donor Stuart Wheeler telling him to step aside.
Later, he challenged his critics to decide whether they wanted him to stay in the party.
He said he had "massive" support from Ukip MEPs, donors and party members to continue in the role, suggesting one unnamed person, who "hasn't had the courage to break cover", but was "agitating for change".
Meanwhile, the Telegraph said that Farage demanded that internal critics swear loyalty to him or leave Ukip, with one insider suggesting that former Daily Express journalist O'Flynn will be stripped of his economic portfolio and told to start work again at the bottom.