Ukip appears to be on the verge of imploding after its campaign chief accused advisers of creating a "personality cult" around outspoken leader Nigel Farage, as a major donor urged him to resign.
Farage, who has led the anti-EU grouping to be the third largest in Britain, has been forced to admit that he had lost the confidence of his party.
The turmoil grew after campaign director Patrick O'Flynn branded him "snarling, thin-skinned [and] aggressive" in an interview with The Times.
Spread-betting tycoon Stuart Wheeler who has donated £600,000 to Ukip, urged Farage to resign. "I would like him to step down, at least for the moment," Wheeler - a former Tory donor -said.
"And if he wants to put himself up in an election, then he has every right to do so, though I personally would prefer somebody else now."
Hugh Williams, the party's co-treasurer, warned that Farage's leadership could make the party look like a one-man band. "There has to come a time - and I think that time is probably now - when he has to let the party stand on its own two feet and become a party in its own right," he said.
Farage accused his detractors of jealousy, telling the Daily Telegraph: "The idea of a coup - there may have been one or two people who would have liked to be Ukip leader but they have been sadly disappointed. However, asked if he had lost the confidence of his party, Mr Farage told ITV News: "Big time."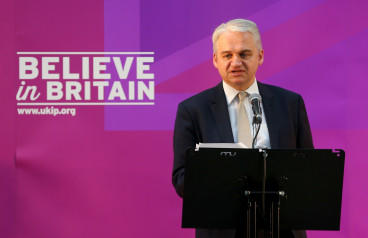 But Farage said he was staying on as leader. He said he did not recognise the negative description of him, and was disappointed in O'Flynn's comments. Nor, he said, would he be subjecting himself to a leadership contest.
"Whatever my faults are, and perhaps they are many, I'm in politics because I believe in what I say," Farage told BBC TV.
"The level of the support for me in the party is phenomenal and, frankly, to go through a leadership contest at a time when [Prime Minister David] Cameron says he's renegotiating our relationship with the European Union would be a massive massive mistake."
As the meltdown gathered pace, Matthew Richardson, the party secretary, quit and Raheem Kassam, Farage's chief of staff, said he would no longer be working for the organisation.
In his Times interview, O'Flynn said that Farage was making Ukip look like an absolutist monarchy and personality cult. His key demand was that a team of "aggressive" and "inexperienced" advisers be sacked for taking the party in the wrong direction.
Ukip members started a writing campaign to party officials, which one signatory described as "gushingly enthusiastic about how wonderful our great leader is", while the tactic was branded "North Korean" by another insider.
Meanwhile, the BBC's Norman Smith slipped up when reporting on the Ukip meltdown.
He was explaining how Patrick O'Flynn had accused Ukip of fast becoming a "personality cult" when he accidentally dropped the C-bomb.
A spokesperson for the BBC said: "The nature of live broadcasting means that on-air stumbles occasionally happen and Norman immediately clarified he had meant to say cult".
Some readers might find the video offensive.