Ukip deputy Paul Nuttall backs 'best communicator' Nigel Farage as purple party war brews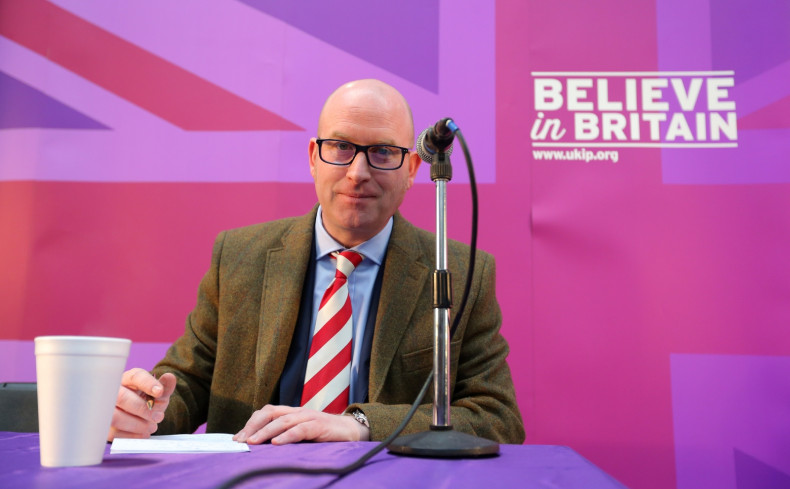 Nigel Farage has been bolstered by one of Ukip's big beasts as the purple outfit faces civil war over the party's leadership.
Paul Nuttall championed Farage as the party's "best communicator in British politics" after a Ukip MEP slammed the Eurosceptic firebrand as a "snarling, thin-skinned, aggressive" man.
Nuttall, the deputy leader of Ukip, said: "The general election was a great success delivering four million votes in the bag. The 2020 vision is on course.
"Ukip have the best communicator in British politics leader this party and who will play a vital role during the referendum campaign."
Patrick O'Flynn, MEP for the East of England, made the scathing remarks to The Times after Ukip's national executive refused to accept Farage's resignation after he failed to win South Thanet at the general election.
The 51-year-old was more than 2,000 votes behind the Conservatives' Craig Mackinlay, a former Ukip deputy leader.
Tensions have mounted since the election after Ukip only secured one MP in the House of Commons, Clacton's Douglas Carswell.
The former Tory reportedly clashed with the party's headquarters over whether to accept £650,000 ($1m) per year of public money (so called "short money").
The cash is intended to help non-government parties with administrative and staffing costs. But Carswell has publicly argued Ukip should not accept all of the money and £350,000 would suffice.
"I'm not an American senator. I doubt that even Ed Miliband when he was leader of the opposition would have had 15 staff in his office," he told BBC's Radio 4 Today programme.
"Ukip is meant to be different and Ukip is going to be different. And I think we need to make it absolutely clear that when we spend money, we are doing it because it is the right thing to do, not just simply because the money's there."
Meanwhile, O'Flynn took a swipe at Farage's inner circle on Sky News. The former journalist stressed the Ukip leader was his "political hero" but claimed he was surrounded by "wrong-uns".
"There are a couple of people in his inner circle who are wrong-uns in my view and they are trying to influence [Farage] in a direction which is neither productive for Ukip nor, even more importantly at the moment, productive for the general campaign to get Britain out of the EU," he said.
Ukip's party secretary Matt Richardson has resigned, according to The Telegraph, just hours after O'Flynn took to the airwaves.
Raheem Kassam, one of Farage's senior aides, took to Twitter: "My contract has always expired at the end of the month and I am on holiday until then. Nigel is the best leader for Ukip."