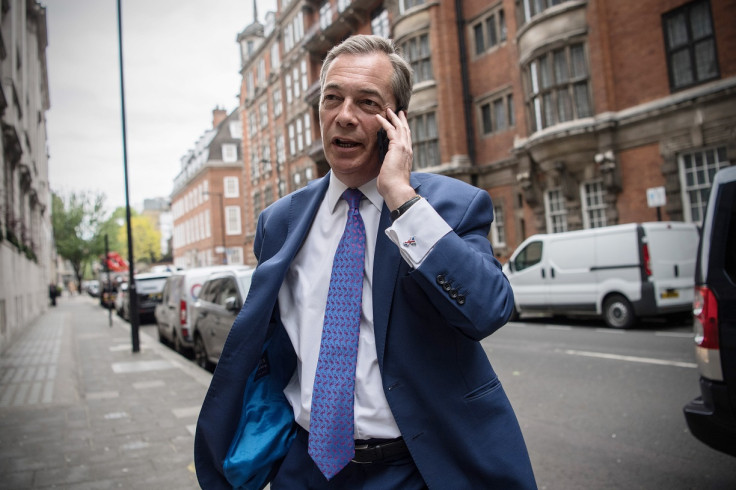 The future of Ukip will be decided by the outcome of Brexit negotiations, former leader Nigel Farage has said. The party lost 145 seats in local council elections and gained just one on Thursday (4 May) after supporters are thought to have flocked to the Conservatives.
Almost four million people voted for Ukip at the 2015 general election but the poor showing locally raised questions about its future after the party has achieved its goal of extricating the UK from the European Union.
Speaking on Peston on Sunday, former leader Nigel Farage, who led the Eurosceptics in 2015, said the party should exist to stop the government back sliding over Brexit, using the analogy of a house fire to describe the party's place in UK politics.
"It is going to survive, it has to survive… We pay house insurance not because we want a fire but just in case there is one," he said.
"If in two years and half years she [Theresa May] has delivered Brexit that the people want then you have to ask the question what is Ukip and where is it going."
Farage said the prime minister was going to win the election "by miles" using "the same words and phrases I have been using for 20 years".
When it came to a deal with the EU, Farage was more cautious. "It all looks and sounds fantastic but we have career politician whose record of delivery in the past has been poor, so lets see."
The MEP will not be standing at the general election on 8 June but will remain in at the heart of Europe because there will be "far more action in Brussells over the next two years" than Westminster.
Current Ukip leader Paul Nuttall is standing in Boston and Skegness in Lincolnshire at the general election after failing to win the Stoke by-election in January. Farage said his successor faced a difficult task filling his shoes but that he was "doing fine".