Shadow Chancellor John McDonnell has called on Prime Minister Theresa May to make a U-turn on her vow to dodge live TV debate in the run up to the general election for the sake of democracy.
A No 10 source said the reason for Theresa May's decision stemmed from her belief that the choice of UK voters is "already clear" in either her "strong and stable" or Jeremy Corbyn's "weak and unstable" leadership.
"I want this debate between May and Corbyn. I want Theresa May to respond to this," he said.
"The reality is that the winner of this election is going to be one of the major parties. What is wrong with debating, we're a democracy for goodness sake."
Labour has announced they would protect earners below £80,000 a year from tax increases, with the top 5% asked to pay "a modest increase" in tax in order to fund public services like the NHS.
"Those above 80,000 – we're asking to pay a bit more to fund our public services. There has been an 11% cut in nurses wages. Going to food banks – that cannot be right. So we're asking them to pay a modest bit more."
McDonnell denied rumours that Labour would install a "stealth tax" or a "rich list tax", but admitted that the party would strive to act on "inequality" in Britain, which could mean addressing "individuals".
"I'm quite shocked about inequality in our society. We'll be bringing forward ideas around that," he said. "We're talking about individual areas, we're talking about modest increases so we can have a society that we believe everyone can share the benefit of."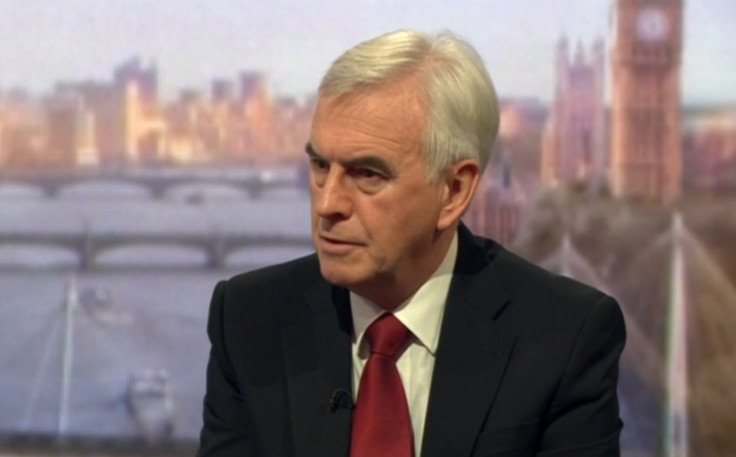 Marr reminded McDonnell of their interview on the programme in July 2016, where McDonnell confirmed resigning would be an "inevitable" outcome for Labour leader Jeremy Corbyn and himself if they were to lose the next general election.
McDonnell refused to discuss the possibility of Corbyn resigning, saying he sees no other outcome than a Labour win.
"I'm not working on hypotheticals, we're out to fight for every vote," he vowed. "There has been a rush of young people to vote and I believe we will win this election. We're not contemplating any loss because our country needs us."