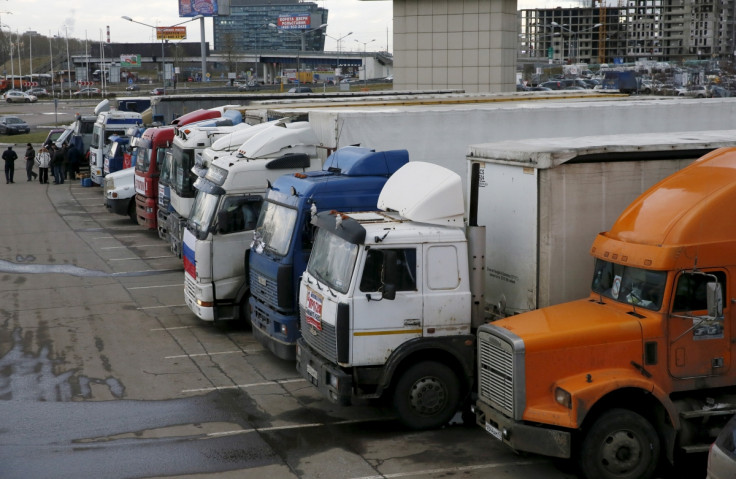 A trade war between Kiev and Moscow is deepening after Ukraine banned Russian trucks from transiting across its territory.
Kremlin spokesman Dmitry Peskov called the move on Monday (15 February) "absolutely outrageous" and prime minister Dmitry Medvedev called the situation "disgraceful" and vowed there would be an "adequate response", Interfax reported.
It was a tit-for-tat measure and follows Moscow's banning of Ukrainian trucks from Russia, which Kiev described as a violation of WTO rules. Earlier on Monday, 152 Ukrainian trucks were detained by Russian authorities.
In a statement, the Ukrainian prime minister Arseniy Yatseniuk said: "We demand Russia to stick to the WTO requirements and restore transit traffic for Ukrainian motor vehicles."
There has also been a halt to all flights between the countries and Russia has frozen imports from Ukraine, which has hit the cash-strapped Ukrainian economy hard.
The trade spat was sparked when Nationalist groups in western Ukraine recently tried to prevent Russian trucks from crossing into the rest of Europe in protest over what they claimed was Russia's role in the 21-month eastern separatist conflict.
The action began in the western Zakarpattia region and later spread to Lviv and Volyn regions. Delays affected trucks headeding towards Slovakia, Hungary and Belarus.
The latest development mirror the difficulties faced by western leaders trying to broker peace between the two countries as Paris and Berlin hit more road blocks after a security conference in Munich.