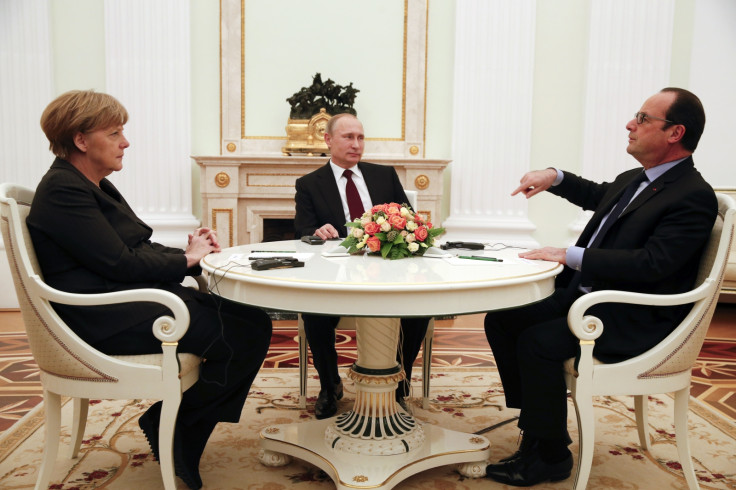 Leaders of Russia, Germany and France have agreed to a blueprint for a peace plan to end the 10-month-long conflict in Ukraine during late-night talks in Moscow.
Discussions between Russian President Vladimir Putin, German Chancellor Angela Merkel and French President Francois Hollande were wrapped up early Saturday with the leaders agreeing to a draft that will probably implement the broken Minsk truce pact and also include proposals from Ukraine's Petro Poroshenko.
The three leaders will discuss the draft with Ukrainian President Poroshenko by telephone on Sunday.
"They were substantial and constructive," Kremlin spokesman Dmitry Peskov told reporters.
The talks are an attempt to prevent the conflict in east Ukraine from spiralling out of control as Washington considers equipping Kiev with weapons.
The fighting has claimed more than 5,300 lives since April.
Merkel and Hollande had held discussions in Kiev before arriving in Moscow, reports AFP.
On Friday, US Vice President Joe Biden who was in Brussels called for the US and Europe to stand with Ukraine as it battles for survival adding "Russia cannot be allowed to redraw the map of Europe".
The EU bloc has warned it would blacklist more Russian individuals while the sanctions in place have dealt a blow to Russia's economy. Putin has remained defiant.
The West and Kiev accuse the Kremlin of helping the rebels on the eastern borders with troops and sophisticated weapons. Moscow has denied being a party to the conflict.
Rebel and Ukrainian forces, meanwhile, agreed on a ceasefire for several hours on Friday around the battleground town of Debaltseve to allow civilians to leave.