Merkel and Hollande visiting Moscow to hold peace talks with Putin on Ukraine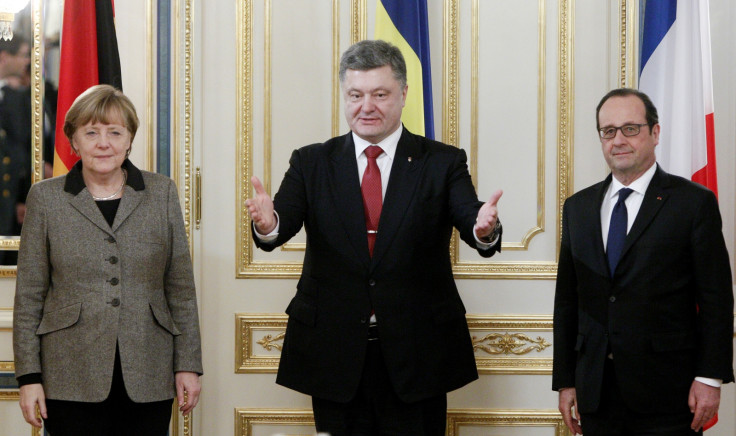 German Chancellor Angela Merkel and French President Francois Hollande are making a surprise visit to Moscow as part of a peace initiative in view of the escalating conflict in eastern Ukraine.
The two leaders are expected to meet President Vladimir Putin for discussions.
Merkel and Hollande's trip to Moscow comes a day after their talks in Kiev with Ukrainian President Petro Poroshenko to push for a diplomatic solution to the crisis.
US Secretary of State John Kerry, who was also in Kiev but will not be heading to Russia, has voiced full support for the Franco-German initiative.
"We want a diplomatic resolution but we cannot close our eyes to tanks that are crossing the border from Russia and coming into Ukraine. We can't close our eyes to Russian fighters in unmarked uniforms crossing the border and leading individual companies of so-called separatists in battle," said Kerry.
The sudden decision by the two leaders to travel to Russia has raised the stakes in the Ukrainian crisis further highlighting the gravity of the situation.
Announcing the imminent talks in Moscow, Russian presidential spokesperson Dmitry Peskov said: "The leaders of the three states will discuss what specifically the countries can do to contribute to speedy end of the civil war in the southeast of Ukraine, which has escalated in recent days and resulted in many casualties."
Hollande said he and Merkel are preparing to present a new proposal to Russia as part of a peace plan.
"It will not be said that France and Germany together have not tried everything, undertaken everything, to preserve the peace," the French leader said.
© Copyright IBTimes 2023. All rights reserved.