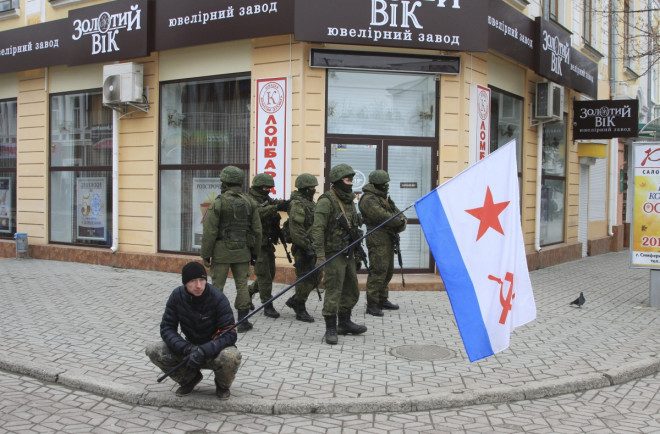 Over 6,000 Russian troops are now on the ground in the Crimea region of Ukraine, the country's defence minister claims. Ukraine's new Prime Minister Arseny Yatseniuk called on Moscow to end its "provocative" actions and put troops on high alert but said the country would not be drawn into an armed conflict.
"It is unacceptable when armoured Russian military vehicles are out in the centre of Ukrainian towns," said Yatseniuk, who became Prime Minister of the country last week on a platform of national unity. This followed the recent bloodshed in Kiev in which around 100 people died, and the subsequent ousting of former PM Viktor Yanukovich.
There were reports that Russian troops had seized both the civilian airport at Simferopol and the military airport at Sevastopol, but Ukrainian sources now claim to have regained control of both. Around 30 Russian marines are also said to be in position outside the port of Sevastopol and unidentified soldiers are now believed to have seized another airfield.
The picture in the Crimea remains deeply confused. According to Russia Today armed men from Kiev attempted to seize the Crimean Interior Ministry overnight, leaving several people injured.
Russia, which stations its Black Sea fleet in Sevastopol, insists it is not behind the airport seizures in Crimea and only has troops in the area for "security reasons". Crimea's Prime Minister, the pro-Russian Sergei Aksyonov, appealed to the Russians for help and said he retains full control:
"I appeal to the president of the Russian Federation, Vladimir Putin, to provide assistance in ensuring peace and tranquillity on the territory of the Autonomous Republic of Crimea," said Aksyonov.
Many people in the Crimea are ethnic Russian and are suspicious of the recent pro-democracy uprising in the west of the country. In a public statement from Russia Yanukovich insisted he was still the Ukrainian PM.
However US President Barack Obama said any military intervention by the Russians would have "costs": "Any violation of Ukraine's sovereignty and territorial integrity would be deeply destabilising, which is not in the interests of Ukraine, Russia or Europe," said Obama.
"The United States will stand with the international community in affirming that there will be costs for any military intervention in Ukraine."