Ukraine Crimea Crisis: Foreign Office Urges Britons to Leave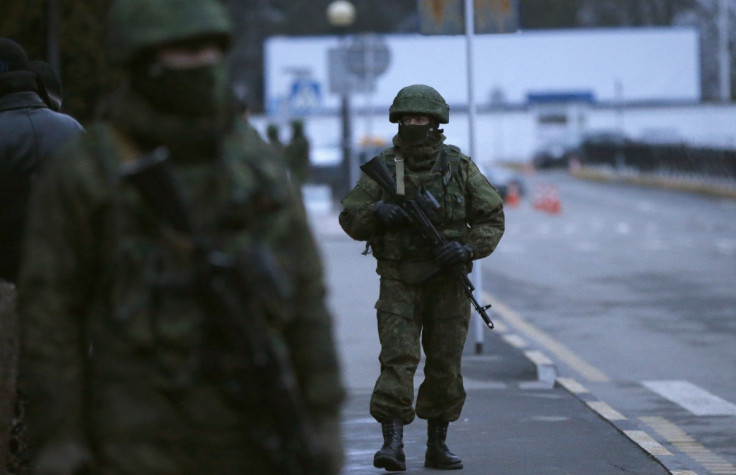 The Foreign Office has urged Britons to leave Crimea amid spiralling tensions between Russia and Ukraine over the strategic peninsula on the Black Sea.
Travelling to the southern Ukrainian region for any reason was also advised against by Whitehall.
"There has been increased violence and disturbances in Crimea, particularly in Simferopol," read an updated FCO travel advisory.
"There are media reports of blockades on roads out of the Crimean peninsula.
"Armed men are reported to have seized Simferopol airport early on 28 February. Although the airport is reportedly operating as usual, we do not advise British nationals to try to leave from there until the situation becomes clearer," the FCO wrote.
"Sevastopol (Belbek) airport is also reported to be blocked by military and flights are not operating. There are reports of Russian helicopters arriving at Sevastopol.
"If you're currently visiting or living in Crimea, you should leave now by commercial means. Train routes are still operating out of the peninsula. If you choose to remain, you should keep a low profile, avoid areas of protest or stand-off and stay indoors where possible," the advice said.
Ukrainska Pravda internet newspaper reported that at least five Russian Il-76 planes have landed at a military airport near Simferopol.
Earlier Crimean airports were occupied by unidentified militiamen, believed to be Russian military.
Ukraine's interior minister Arsen Avakov accused Moscow of having launched an "armed invasion".
Russia admitted some of its troops were moving across Crimea, where it has a large naval base located in the city of Sevastopol.
"The Russian foreign ministry has also filed a return note to Ukraine over manoeuvres of armoured vehicles of the Russian Black Sea Fleet in the Crimea that were required to protect deployment places of the Black Sea Fleet in Ukraine that is being done fully in line with Russian-Ukrainian basic agreements on the Black Sea Fleet," Moscow said.
Tension in Crimea has been mounting since pro-Kremlin Ukrainian president Viktor Yanukovich was ousted in a revolution a week ago.
Revolutionaries are branded fascists and radicals in Crimea, the only region where ethnic Russians make up a majority of the population.
Last week Crimean civil groups called for Russia to send in the military to protect them from an imminent "genocide".
© Copyright IBTimes 2023. All rights reserved.