David Cameron has repeated a call for Russia and Ukraine to start negotiations immediately to bring the crisis in the region to a swift end, but is holding back from imposing full UK trade and financial sanctions against Moscow.
The prime minister hosted a meeting of the UN Security Council after speaking direct to general secretary Ban Ki-moon as part of diplomatic moves to get the two sides together.
But even as the meeting was under way there were reports Russia had upped the ante by issuing an ultimatum for the surrender of two Ukrainian warships in Crimea.
Speaking after the meeting, Cameron said the reports were "deeply concerning".
"What we want to see is a de-escalation rather than a continuation down the path that Russia has taken, violating the sovereignty and territorial integrity of another country.
"So we shall have to bring to bear diplomatic, political, economic and other pressures in order to make this point. That is the very clear message the whole world needs to send to the Russian government."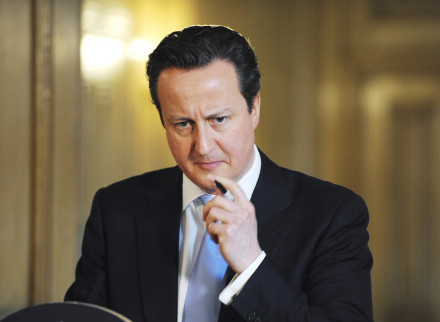 Although visa restrictions and other sanctions were on the cards, it emerged that wider trade sanctions, along with military intervention, were not on the government agenda. A photograph of a document being carried into Downing Street by a government official showed the UK "should not support for now trade sanctions or close London's financial centre to Russians".
The same document also confirmed that the EU was working on contingency plans to keep gas supplies flowing to Ukraine should Russia attempt to cut them off.
Earlier, the prime minister's spokesman had insisted the main focus of diplomatic efforts was around de-esclation.
"I would continue to make the points I have been making about encouraging de-escalation and keep making the point around significant costs.
"The international community has been clear about there being significant costs and alongside that seeking ways to de-escalate by encouraging dialogue between the Ukraine and the Russian government.
"There is a clear message around the fact that the violation of Ukraine's independence and sovereignty will lead to significant costs and I would keep emphasising the points around de-escalation," he said.
With this crisis apparently intensifying almost by the hour, Cameron and other Western leaders were struggling to keep ahead of the game amid real fears Moscow was in no mood to back down.
Russian president Putin appeared to be making the running leaving the international community lagging behind.
Foreign secretary William Hague has repeated Whitehall's insistence that military intervention was not an option but that there would be "costs" for Russia if it did not de-escalate the situation.
Those costs would be likely to include visa restrictions and economic sanctions. But there was an obvious risk that such a move could lead to tit-for-tat measures from Moscow.