Russia has reportedly given Ukrainian troops in Crimea 12 hours to surrender or face an all-out assault, sources within the Ukrainian government have said.
According to a source at the defence ministry in Kiev quoted by Interfax news agency, Russian Black Sea Fleet commander Aleksandr Vitko set a deadline of 3am Tuesday.
"If they do not give up by 5am [3am GMT] tomorrow, there will be a real storm of subdivisions and units of Ukraine's military forces all over Crimea," Vitko was quoted as saying.
There was no immediate official confirmation of the report. The Russian defence ministry eventually denied reports of an ultimatum.
Earlier on Monday, the Ukrainian military said pro-Russian troops had surrounded or taken over "practically all" its military facilities in the southern peninsula.
Russian foreign minister Sergey Lavrov said the move was necessary to protect ethnic Russians, who make up a majority of the population in Crimea.
"This is a question of defending our citizens and compatriots, ensuring human rights, especially the right to life," Lavrov said.
In Kiev, new prime minister Arseniy Yatsenyuk described the deployment of Russian troops on Ukrainian soil as a "declaration of war".
Yatseniuk said: "This is the red alert, this is not a threat. This is actually a declaration of war on my country."
During a meeting with British foreign secretary William Hague, Yatseniuk said Kiev had no intention of giving up Crimea.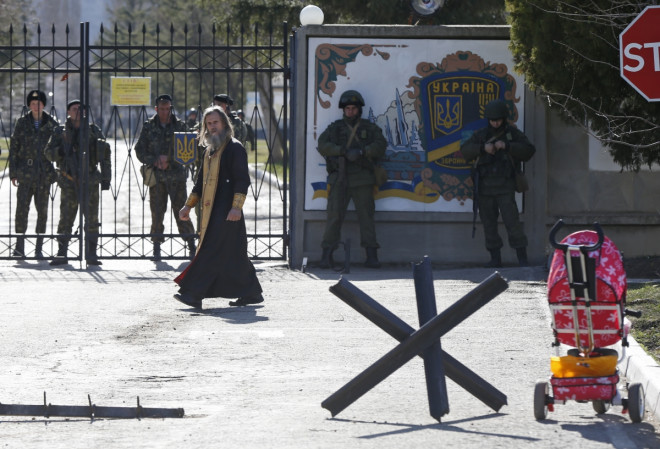 "Any attempt of Russia to grab Crimea will have no success at all. Give us some time," Yatsenyuk said.
Unidentified military personnel believed to be Russian servicemen have seized barracks, border posts, and a ferry terminal in the Ukrainian city of Kerch, just 20 km (12 miles) across the water from Russia.
"The Russians are behaving very aggressively. They came in by breaking down doors, knocking out windows, cutting off every communication," Ukrainian border guards spokesman Sergei Astakhov said.
Astakhov said Russians demanded that Ukrainians pledge loyalty to Crimea's new pro-Russian local government.
The newly appointed head of Ukraine's navy, Rear Admiral Denys Berezovsky, has been placed under investigation for treason by Ukrainian authorities after defected to the Crimean government.
[UPDATE 16:15 GMT] The press office for the Ukrainian defence ministry in Crimea has confirmed that Russia's Black Sea Fleet has delivered the ultimatum, the BBC reports.