President Yanukovich and three main opposition leaders - Klitschko, Yatsenyuk of and Tyahnybok - sign deal to end three-month crisis.
The Ukrainian parliament votes to free Yulia Tymoshenko, sack interior minister Zakharchenko and restore 2004 constitution.

Yanukovich announces early elections with reduced powers for president and a new national unity government.

At least 47 people died on Thursday in Ukraine's bloodiest day since independence.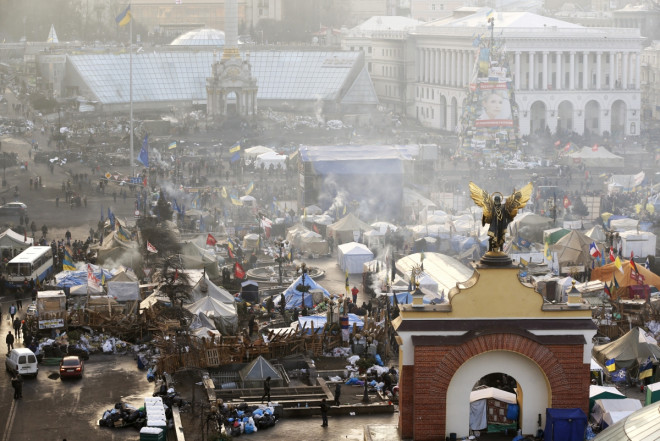 19:02 Our live coverage ends here. IBTimes UK will be back with fresh developments in the Ukraine tomorrow.
18:50 The Russian foreign ministry emphasised its view that radicals were to blame for the violence in a meeting with European Union foreign policy chief Catherine Ashton.
"Sergei Lavrov [Russia's foreign minister] denounced the activities of radicals who bear the full responsibility for the violence and human casualties and urged the EU and its member-states to clearly express rejection of these activities," the Ministry said.
17:11 The Ukrainian parliament has voted for the release from jail of former prime minister Yulia Tymoshenko, a political rival of President Viktor Yanukovich.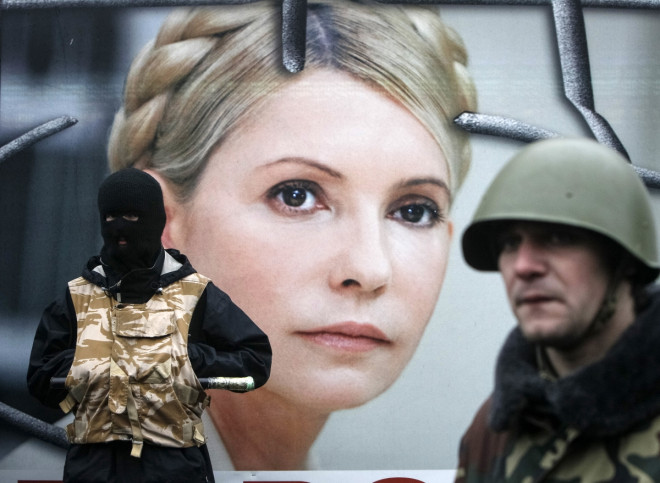 16:33 One opposition protest group in Ukraine that does not support the deal is the radical right-wing group Right Sector. They have denounced the agreement in a tweet, saying: "The opposition is planning to form a coalition with murderers, so now everyone will have to decide for themselves what to do next."
16:28 The Ukraine parliament has voted overwhelmingly to fire Interior Minister Zakharchenko, believed to have ordered violent crackdowns on protesters.
16:14 Ukrainian opposition leaders have signed the EU-brokered agreement with President Yanukovich aimed at ending the crisis in the country.
16:04 Ukraine has just won its first gold medal in the Sochi Winter Olympics, in the women's biathlon relay.
16:02 A Syrian cartoon of Putin's troubles: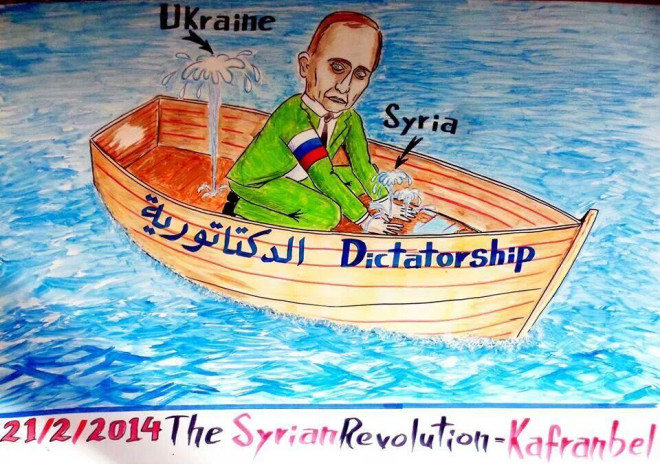 15:54 According to Rada TV, 386 MPs voted in favour of restoring the 2004 constitution, one MP abstained, with no votes against. Ten MPs did not take part at all. The national anthem broke out in parliament after the results were announced - via BBC.
15:24 The European Union's top foreign policy official Catherine Ashton has said she wanted to see "free and fair" elections take place.
"It's so important the process is done well and properly," she said.
14:50 Politicians are already reacting to the news of the agreement.
Here's Herman Van Rompuy, President of the European Council:
British Prime Minister David Cameron has released this statement:
14:57 The Ukrainian lawmakers have approved return to 2004 constitution with reduced power to the president.
14:49 Ukrainian President Viktor Yanukovich and three main opposition leaders - Vitali Klitschko of the pro-EU Udar movement, Arseniy Yatsenyuk of the main opposition Fatherland and Oleh Tyahnybok of the far-right Svobod - have signed a deal to end a three-month crisis in the ex-Soviet country. The deal has been brokered by the German, the French and the Polish foreign ministers. Here's the full text of the agreement as posted on the German Foreign Ministry website: 13:55 Yanukovich and the Ukrainian opposition have signed the EU-brokered agreement to end crisis, according to Reuters 13:41 The Polish foreign minister Radoslaw Sikorski has been recorded on camera while telling a protest leader: "If you don't support this [deal] you'll have martial law, you'll have the army. You will all be dead." ITV has footage of this chilling quote.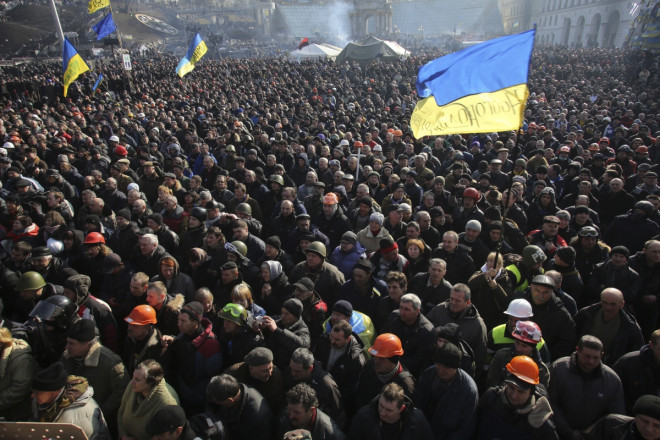 13:25 The Ukraine opposition leader Tyahnibok has confirmed to Reuters that the protesters' council supports the president agreemtn on condition that the present interior minister and prosecutor-general are excluded form any interim government.
13:06 We might have a breakthrough in the Ukrainian crisis. German Foreign Ministry has said that Maidan protesters agree to president's proposal on resolving crisis.
11:32 Earlier we reported about police officers from the western Ukrainian city of Lviv arriving in Kiev to defend the Maidan protesters. They have appeared on stage in Independence Square, as this Reuters pic shows: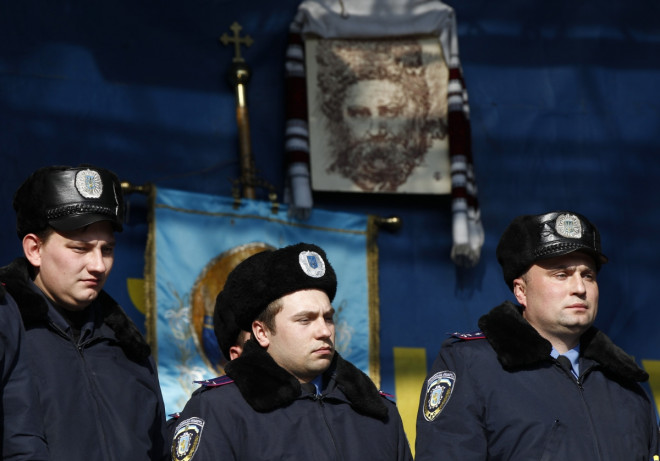 11:00 Here's a rough translation of Yanukovich announcement: Dear fellow citizens! In these tragic days when Ukraine suffered such heavy losses when people died on both sides of the fence consider it my duty to light the memory of the victims claim - there is nothing more important on a human life. And there is no such steps that we all would not have been done to restore peace in Ukraine . I will announce steps to be done to restore calm and avoid these victims of conflict. I declare that I initiate early presidential elections. I also initiate a return to the Constitution of 2004 with the redistribution of powers aside parliamentary republic. I call to the procedure of forming a government of national trust. As the President of Ukraine and the Guarantor of the Constitution today I do my duty to the people, to Ukraine and the Lord God in the name of the State in the name of saving the lives of people in the name of peace and tranquility in our land. 10:58 President Yanukovich has announced Ukraine to hold early presidential election. He also announced return to 2004 constitution with reduced powers for president and a new national unity government.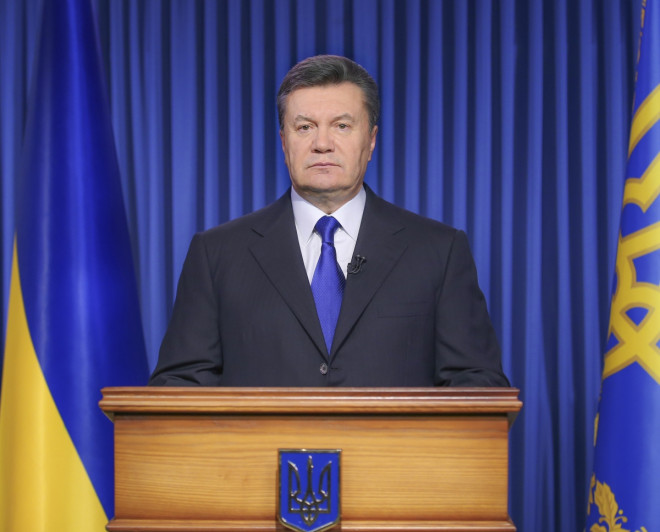 10:50 Ukraine's Army Chief General has allegedly been fired after refusing to carry out Yanukovich's order to use the army against the people
10:15 Ukraine's interior ministry said that 80 people were killed on Euromaidan since 18 February. 16 of them are policemen.
09:59 A fight has broken out in Ukraine's parliament during a session aimed at resolving crisis. AP reports: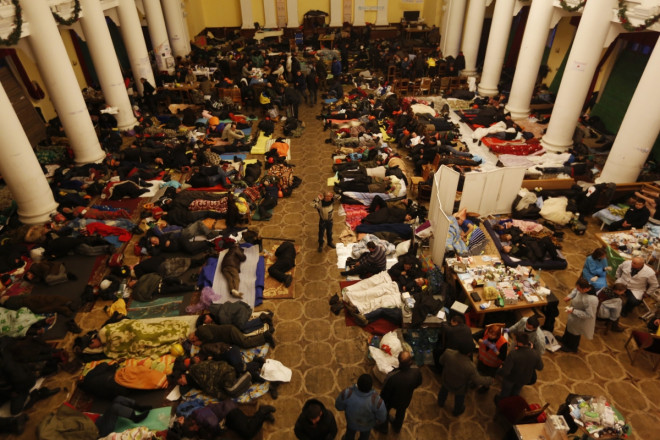 09:44 AP and Interfax news agency have more details on the deal struck overnight between Ukraine president and the opposition. Here's an overview:
A coalition government to be formed in 48 hours to include the opposition
Early presidential election sin December
A constitutional vote in September will limit President Viktor Yanukovich's powers
It is very unlikely that the demonstrators, who have camped for three months on Kiev's Independence Square (the Maidan), will accept this deal. They are demanding Yanukovich's resignation and early elections.
09:35 There are further reports of police defections in Ukraine. Maxim Tucker, from Amnesty International, tweeted:
09:15 More on the alleged deal between the president and the oppositon to solve the crisis. French foreign minister Laurent Fabius said in a live interview on Europe 1 radio that the opposition "wants to consult with some of its memebrs, which is entirely understandable". "In this sort of situation, as long as things haven't really been wrapped up, it's important to remain very cautious," Fabius continued. Details about the deal are still unclear, but The Kiev Post tweeted:
09:02 Reuters is reporting that Ukrainian protesters have opened fire on police between Kiev's Independence Square and the parliament bulding. A police statement reads:
However, AP says it is unclear where the shots are coming from or whom they are targeting.
09:00 Welcome back to our live coverage of violence in Ukraine. Here's a round-up of the latest events: