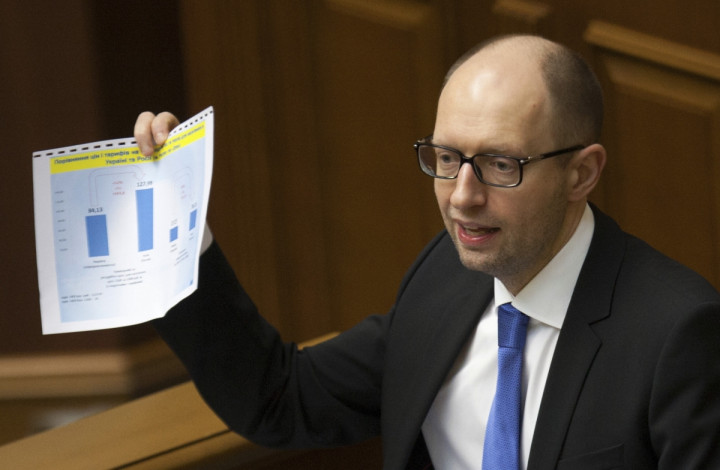 Ukrainian Prime Minister Arseniy Yatsenyuk has accused Russian President Vladimir Putin of planning to wipe out Ukraine as an independent country.
"His aim is not just to take Donetsk and Lugansk," Mr Yatsenyuk said at a conference in Kiev on Saturday, referring to the separatist regions in eastern Ukraine where fierce fighting has been continuing for five months.
There are currently reports of heavy fighting near the airport in Donetsk, one of the main rebel-held cities, despite a Ukrainian and Russian leaders agreeing to a ceasefire.
"His goal is to take the entire Ukraine… he wants to eliminate Ukraine as an independent country," Yatsenyuk said.
Yatsenyuk described the truce signed on 5 September in Minsk between Kiev, pro-Russian rebels, Moscow and the Organization for Security and Co-operation in Europe (OSCE) as just a "first step" to "stop a massacre" in eastern Ukraine.
He added that having a bilateral accord with Russia was "not the best" idea and called on the United States and the European Union to play a direct role in peace talks, and to guarantee Ukraine's sovereignty and independence.
Conflict makes change 'impossible'
"They [the Russians] will outplay us," he said, according to a Reuters report. "Putin wants to get another frozen conflict and get his hands on our belly fat."
The Ukrainian PM stated that the conflict had made it impossible for the Kiev authorities to embark on real change, to tackle political reforms, the economic crisis and endemic corruption.
He denied charges that the unrest in the east, which erupted after pro-Russian separatists launched an uprising against Kiev's rule, was a "civil conflict".
"The only person who is destabilising the situation is Putin," he said. "We are in a state of war and the key aggressor is the Russian Federation."
Nato says Russia has around 1,000 heavily armed troops in eastern Ukraine and about 20,000 more near the border.
Russia denies sending direct military help to the rebels, insisting that any Russian soldiers there are "volunteers".