The rebel-held Ukrainian city of Donetsk has been heavily shelled, with at least one person dead as a Russian humanitarian convoy nears the region.
It was not immediately clear whether the shells were fired by pro-Russian separatists or Ukrainian government forces.
A Russian aid mission comprising 260 lorries, which the West has denounced as a pretext for an invasion of eastern Ukraine, has stopped near the Russian border.
Russia has not announced the destination of the convoy, arousing suspicion among European nations that it is cover to smuggle military equipment to the rebels. Ukraine is insisting that the lorries must be inspected before entering the country.
European Commission President Jose Manuel Barroso delivered a strong warning to Putin over any possible incursion into eastern Ukraine.
"President Barroso warned against any unilateral military actions in Ukraine, under any pretext, including humanitarian," the European Commission said in a statement.
The violence in the city of Donetsk was ignited when pro-Russian rebels took control of government buildings and held a referendum to declare independence from Kiev.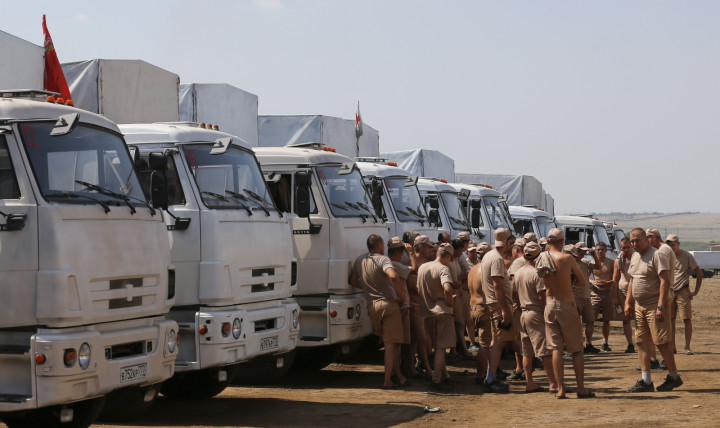 Russian President Vladimir Putin has visited Crimea, announcing the creation of a "Russian military taskforce".
"We must calmly, with dignity and effectively, build up our country, not fence it off from the outside world," he said.
"We do not intend, like some people, to dash around the world with a razor blade and wave that blade around. But everyone should understand that we also have such things in our arsenal."
UN agencies estimate that more than 2,000 people have been killed in the fighting between the pro-Russian rebels and the Ukrainian military since April.
The downing of Malaysia Airlines flight MH17, suspected of being shot down by the rebels killing 298 passengers and crew, has again put the spotlight on the ex-Soviet state and Moscow's relationship with the separatists in eastern Ukraine.