Ukraine Crisis: Nato Top Brass Calls Emergency Meeting on Crimea Invasion [BLOG]
Nato to meet under Article IV of Washington Treaty for only fourth time in history
G7 condemns Kremlin as Russian troops tighten grip in Crimea
US Secretary of State John Kerry due to arrive in Kiev
Emergency meeting of EU foreign ministers called in Brussels
Russian stock market plummets, rouble hits all-time low against US dollar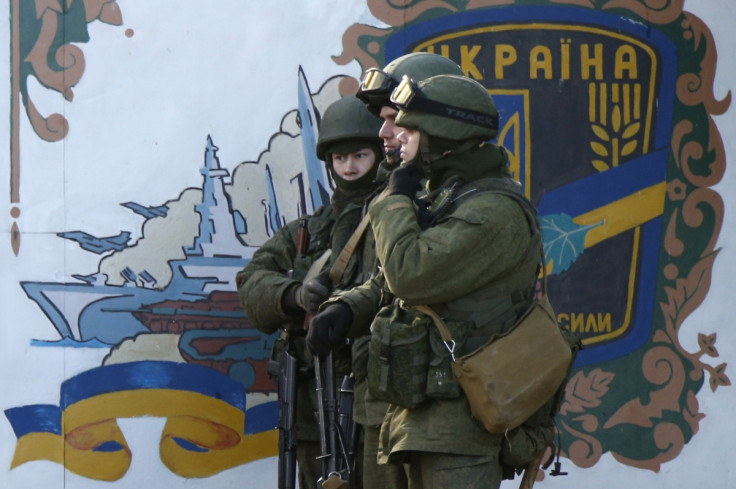 18:59 Our live coverage ends here. IBTimes UK will be back with fresh developments in the Ukraine tomorrow on what is set to be a historic day as Nato meets under Article IV of the Washington Treaty for only the fourth time in its history.
18:52
18:34
18:05 EU foreign affairs chief Catherine Ashton is to meet Russian Foreign Minister Sergei Lavrov in Madrid tomorrow and travel to Kiev on Wednesday, her spokesman Michael Mann says on Twitter.
17:45 The White House delegation to the Sochi Winter Olympics is to boycott the Paralympics in protest over Russia's stance towards Ukraine, according to BBC Breaking.
17:23 However, journalists claim to have heard the ship (in tweet below) offer the ultimatum.
17:08 The Russian Defence Ministry has denied reports that it has offered Ukrainian forces an ultimatum today. Conflicting reports indeed.
16:59 Ukraine has revealed that Russian forces controlling Crimea are demanding that the crew of two Ukrainian warships must surrender.
Ukrainian Defense Ministry spokesman Maksim Prauta said that four Russian navy ships were blocking Ukraine's anti-submarine warship Ternopil and command ship Slavutchy in Sevastopol harbour.
16:37 An emergency meeting of the UN Security Council has been called for today to discuss the Ukranian crisis, a Luxembourg diplomat told Reuters.
16:29 This photo shows armed men, believed to be Russian soldiers, outside the civilian port in the Crimean town of Kerch
16:22 The Russian Foreign Ministry tweeted:
16:14 The BBC reports that the press office for the Ukrainian defence ministry in Crimea has confirmed that Russia's Black Sea Fleet has delivered an ultimatum demanding troops loyal to Kiev in the region to surrender or face an all-out assault.
16:09 The Russian foreign ministry said Black Sea Fleet units in Crimea are not interfering with Ukraine's political crisis.
"All movements of the [Black Sea Fleet] detachments are explained solely by the task of ensuring safety of the fleet and preventing possible attacks by extremists and radicals against our countrymen," the Foreign Ministry said, Russia Today reported.
Meanwhile President Putin is in the Leningrad region to personally oversee a military drill.
The Kremlin called a surprise inspection of troops of the Western and Central military districts amid the escalating tensions in Crimea last week.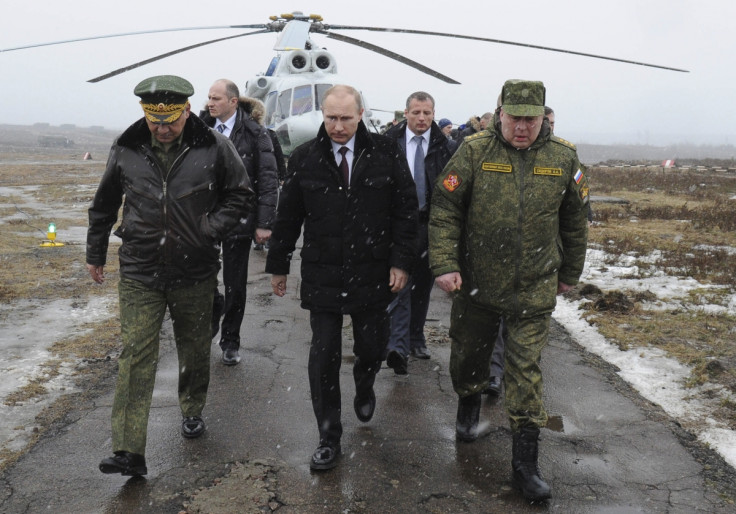 15:53 US Vice President Joe Biden held a phone conversation with Russia's Prime Minister Dmitry Medvedev.
A spokeswoman for Medvedev told Itar-Tass news agency it was Biden who made the call.
"The discussion of the situation in Ukraine has been continued. The prime minister stated about the need to protect the interests of all Ukrainian citizens, including residents of Crimea, as well as interests of Russian citizens that are currently on Ukraine's territory," Natalia Timakova said.

15:21 Russia's Black Sea Fleet has told Ukrainian forces in Crimea to surrender by 5 a.m. (0300 GMT) on Tuesday or face a "real assault", according to Interfax news agency.
Read more here: Ukraine Crisis: Russia Gives 12-hour Surrender Ultimatum to Kiev Troops
15:16 British PM David Cameron has insisted that Russia should not face military intervention.
As our political editor, Nick Assinder, writes:
The "significant costs" that will be imposed on Russia if it refuses to withdraw will not be military.

The prime minister's spokesman underlined the point, telling journalists at a morning briefing: "The only avenue that is being pursued is a peaceful, diplomatic one. I understand G7 partners have been very clear about that as well."

Read the full article here.
15:02 Prime Minister Dmitry Medvedev said Moscow is to honour its agreements with Ukraine, including the construction of a bridge between Russia and Crimea that was decided in December when Kremlin ally, Viktor Yanukovic, was still the president.
Medvedev said:
"Naturally both Russia and Ukraine are interested in a reliable and inexpensive link between the Taman Peninsula and Crimea that will help them open additional trade channels and develop joint investment projects. So in order to continue acting in this direction I've signed a Government directive on transferring the functions of the customer to a joint stock company that will deal with the relevant issues. Our company Rosavtodor is now establishing it. This decision is designed to bring this work to a practical level regardless of the current political circumstances."
14:40 Some demonstrators have gathered outside an emergency meeting of the EU foreign ministers over the situation in Ukraine held in Brussels.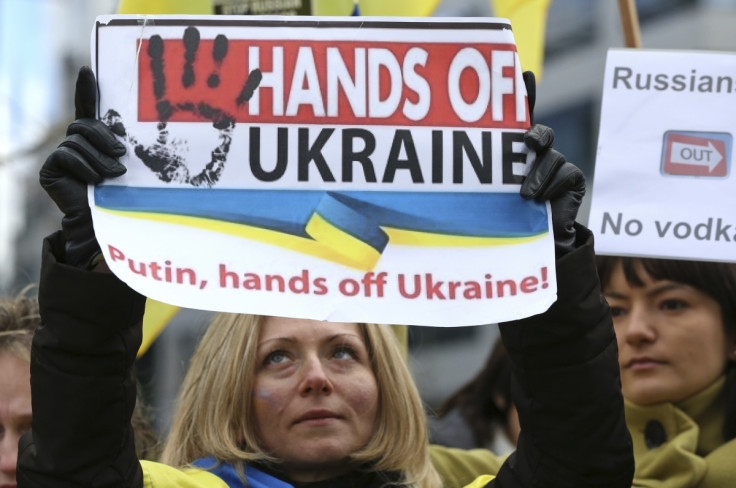 14:33 US Assistant Secretary of State for European and Eurasian Affairs, Victoria Nuland, urged Russia to settle the Ukraine crisis via diplomatic means and reiterated Washington's support for a OSCE mission.
"There will be very, very broad consensus for that monitoring mission. We call on Russia to join that consensus, make the right choice and pull back its forces," she said.
"We are using all of our channels of dialogue to make the case to Russia that it doesn't have to be this way, that it should make a 21st century choice to settle its issues politically and through negotiation, not with military force."
13:42 Keir Giles of the London-based Chatham House think-tank writes that the West "has little leverage to deter or punish Moscow".
The West can scold Russia and cancel summits, but Moscow has at no time considered words of outrage to be a response which needs to be taken into consideration. And with a veto on the United Nations Security Council, Russia need not be overly concerned at the prospect of action from the UN.
Furthermore, based on past performance Russia can confidently expect that any penalties which are imposed will be short-lived. In 2008, the West was incandescent with outrage over the Georgia conflict. The following year, the United States declared a 'reset', NATO resumed military contacts and business as usual was resumed.
13:28 William Hague, British foreign secretary, has said that what is taking place in Crimea "is a violation of the sovreignty and territorial integrity of Ukraine".
"We will be taking decisive steps in order to stop this. The world will not abandon Ukraine," he said.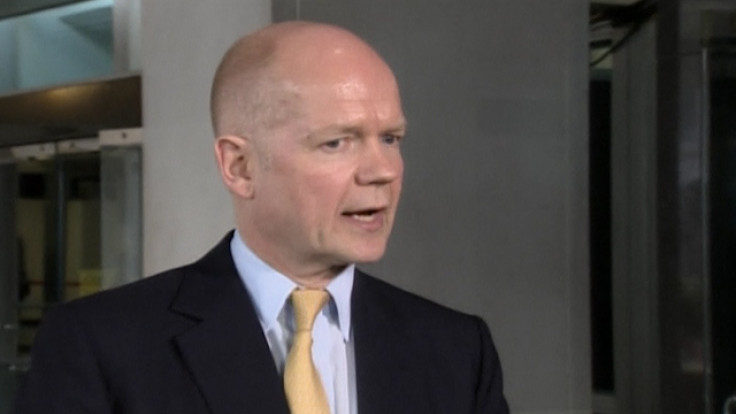 What is taking place in Crimea now is a violation of the sovereignty and territorial integrity of Ukraine. We will be taking decisive steps in order to stop this. The world will not abandon Ukraine,"
13:19 Stock investors have every right to be concerned about the situation in Ukraine, according to Joshua Raymond, chief market strategist of cityindex.co.uk.
In a comment to IBTimes UK, Raymond says:
Should stock investors still be concerned?
Absolutely.
1. The potential of the situation to deepen and intensify remains large.
Russia has been known to be unpredictable in the past and its aggressive and quick action in the region, along with parliamentary backing for further troop deployment not just in Crimea but the Ukraine as well, shows that it remains steadfast to increase its presence in the region. Russia has historically shown that it will protect its assets and people without hesitation. This is exactly what it is doing.
2. The reaction of the G7 is crucial.
Do they call Russia's bluff? Even if Ukraine strikes at Russian troops in the Crimea region, it will still be the response of the G7 that holds the key for complete market volatility and fear. It's hard to see at this stage, with Russia holding all the cards, for the west to dramatically do anything other than appease Russian aggression.
3. A quick look at oil prices shows the impact this situation could have.
Nymex front month oil futures prices hit their highest level since September last year, hitting $104 a barrel. Further oil price rises will have a knock-on effect on stocks and sectors that rely on a stable oil price to keep fundamental costs down. Rising oil prices is a direct threat to the ability of stocks to rally in the near term. This needs to be watched.
4. Key indices have also hit major resistance levels and so the crisis could give investors the excuse they need for a 5%-10% market correction. Market corrections are healthy for the long term bullishness of major indices and as such, should not be feared. However, with the FTSE 100, DAX and Dow Jones all recently hitting levels which triggered selling, a small price correction could now be due. So if anything, the timing of the Ukraine crisis may have well triggered the inevitable
13:11 Another 200 pro-Russian demonstrators are protesting in front of the regional administration building in Odessa, southern Ukraine, The Voice of Russia reports.
13:07 The BBC reports that at least 100 demonstrators waving Russian flags have stormed into the regional administration building in Donetsk.
Scroll down for a video.
13:01 Diplomacy has gone live on twitter:
The Russian Foreign ministry has tweeted a photo of Sergei Lavrov meeting with UN Secretary General Ban Ki-moon talks in Geneva.
German foreign minister Frank-Walter Steinmeier is seen discussing with his French counterpart Laurent Fabius in this photo tweeted by the German Foreign Office.
12:54 Russian Prime Minister Dmitry Medvedev tweeted that Ukraine remains a very important economic partner for Russia.
12:50 Prince Edward has cancelled a visit to the Sochi Paralympics.
"The Earl of Wessex, patron of the British Paralympic Association has, on the advice of government, cancelled a planned visit to Russia between 11 and 14 March to attend the Sochi Paralympic Games," Buckingham Palace said, the BBC reported.
12:38 Here is a YouTube video said to show pro-Russian protesters breaking in the provincial government building in Donetsk.
12:35 Russia's minister for development has suggested that Ukrainians asking for asylum to Russia might be sent to Far East, Itar-Tass news agency reported.
Alexander Galushka said Ukrainian asylum seekers could form "a skill pool" to help develop Russia's remote eastern regions.
Almost 150,000 Ukrainians have for asylum in the last two weeks, according the Russian Federal Migration Service.
12:23 The provincial government building in Donetsk, eastern Ukraine has been sieged by pro-Russian demonstrator.
The industrial town is home to a large number of ethnic Russians.
12:16 China's Foreign Ministry has issued a statement to clarify its stance over Ukraine after Russian foreign minister Sergei Lavrov said Beijing and Moscow's positions coincided.
"China upholds its own diplomatic principles and the basic codes for international relations, which have also been implied on the Ukraine issue," China's Foreign Ministry spokesman Qin Gang said.
"Meanwhile, we have also taken the historical and contemporary factors of the Ukraine issue into consideration."
12:10 Russian Prime Minister Dmitry Medvedev has reportedly ordered the construction of a bridge over the Kerch Strait, connecting Russia to Crimea.
12:01 Russian fighter jets violated Ukrainian airspace overnight, Kiev said.
Ukraine's Defence Ministry said the air force scrambled a Sukhoi SU-27 interceptor aircraft and prevented any "provocative actions", Reuters reported.
11:57 French Foreign Minister Laurent Fabius said Russia's military intervention in Crimea is "unacceptable".
However France is not going to suspend its military contracts with Moscow for the moment, Fabius told RTL radio.
"The Russians consider that countries which belonged to their empire at one point or another should not be outside a certain amount of their control," Fabius said.
"In the case of Crimea, they already have a base in Sevastopol and considering what happened in Ukraine - the overthrow, or at least the departure of Yanukovych - they want to get their hands back on Crimea. Obviously, as far as international law is concerned, it is unacceptable."
11:47 Senior officials with the Obama administration said the US now believes that Russia has complete operational control of Crimea and has more than 6,000 troops in the region, Ap reported.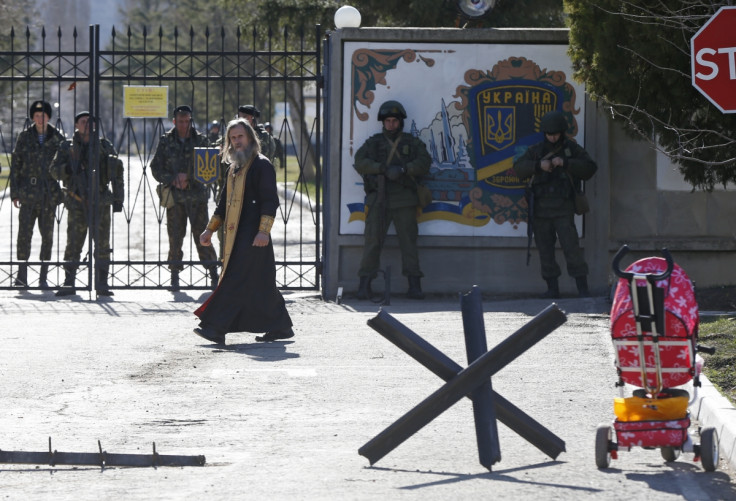 11:29 A video purportedly showing a convoy of Russian troops arriving in Crimea has been posted on YouTube.
In the footage posted by pro-revolution account EuroMaidan PR a number of armoured vehicles are seen driving on a road said to be located near the northern Crimean village of Voykovo.
11: 13 Britain is to give Ukraine £10m in aide to help the country with economic and political reforms in the wake of the revolution, foreign secretary, William Hague said.
The decision was announced after Hague held talks with Ukraine's acting President Olexander Turchynov and Prime Minister Arseniy Yatsenyuk.
11:08 The upper house of the Russian parliament has urged President Vladimir Putin to recall the ambassador to the United States.
Vladimir Dzhabarov, the Deputy Chairman of the Federation Council's committee on international affairs, said a proposal to recall ambassador Sergey I. Kislyak from Washington has been signed by the upper house speaker Valentina Matviyenko and submitted to the Kremlin.
"The decision rests with the president who acts in accordance with political expediency," Dzhabarov said, Itar-Tass news agency reported.
10:42 Ukraine's new Prime Minister Arseny Yatseniuk said his country would never give up Crimea.
Yatseniuk said Kiev would "never give up Crimea to anyone," as Russian troops have surrounded Ukrainian bases in the region and set up roadblocks.
10:30 Russia's state-run energy giant Gazprom says it is mulling over whether to increase gas prices after the first quarter of this year because of a lack of payments from Ukraine.
According to a statement by Gazprom's chief financial officer, Gazprom is looking to hike prices for Ukraine, despite Vladimir Putin previously pledging to potentially lower gas bills in the event of a new government.
Andrei Kruglov said:
"The situation with payments is worrying. Ukraine is paying but not as well as we would like it to ... We are still thinking about whether to extend the pricing contract into the next quarter based on current prices".
Read more here: Ukraine Crisis: Gazprom Eyes Gas Price Hike Over Lack of Ukrainian Payments
10:11 Russian Foreign Minister Sergei Lavrov repeated claims that the deployment of troops in Crimea aims to defend Russian citizens and protect human rights.
Speaking at the UN Human Rights Council in Geneve Lavrov said the military will deter radicals from using violence.
"I reiterate, we are talking here about protection of our citizens and compatriots, about protection of the most fundamental of the human rights – the right to live, and nothing more," Lavrov said.
"Those who try to interpret the situation as an act of aggression, threaten us with sanctions and boycotts, are the same partners who have been consistently and vigorously encouraging the political powers close to them to declare ultimatums and renounce dialogue, to ignore the concerns of the south and east of Ukraine and consequently to the polarization of the Ukrainian society."
10:01 German chancellor Angela Merkel has reportedly told Barack Obama that after talking to Vladimir Putin she was unsure whether the Russian president was "in touch with reality".
As secretary of state John Kerry flies to Kiev to ease the standoff between Russia and Ukraine, pressure mounts over Obama to confront Putin after he effectively seized control of the Crimean peninsula.
The New York Times reports that in a phone call with the US president, Merkel said that Putin was living "in another world".
9:58 Russia has shut down a number of internet pages supporting the revolution that toppled the pro-Kremlin Ukrainian president Viktor Yanukovich.
Russia's Internet monitoring agency said it was ordered by the general prosecutor's office to block 13 pages on VKontakte, Russia's most popular social media.
The agency said the groups "propagandized the activity of Ukrainian nationalist groups," and accused them of encouraging "terrorist activity" and "participation in unsanctioned mass actions."
9:39 Pro-Russian troops have taken control of a ferry terminal in the Ukrainian city of Kerch, on the easternmost tip of the Crimean peninsula.
The city gives name to the Kerch Strait, which marks the entrance to the Sea of Azov.
9:13 Russia said Foreign Minister Sergei Lavrov had a telephone conversation with his Chinese counterpart Wang Yi and the two shared a common view on the unfolding crisis in Ukraine.
The Russian Foreign Ministry tweeted:
In an opinion piece, China's official news agency Xinhua backed Vladimir Putin's decision to deploy troops in Ukraine purportedly to protect ethnic Russians living there.
"Based on the fact that Russia and Ukraine have deep cultural, historical and economic connections, it is time for Western powers to abandon their Cold War thinking, stop trying to exclude Russia from the political crisis they failed to mediate, and respect Russia's unique role in mapping out the future of Ukraine," Xinhua wrote.
8:58 The US has demanded OSCE (Organization for Security and Cooperation in Europe) observers are immediately sent to Ukraine to help defuse the crisis.
8:52 Russia's stock market plunged as investors fled amid the escalating Ukraine crisis, while the rouble sunk to an all-time low against the US dollar.
Moscow's Micex sunk 11% and the Russian rouble was down 2.5% to 36.5 against the US dollar. The Ukrainian stock exchange had plummeted by 10%.
Read more here: Ukraine Crisis: Russian Markets Plunge as Rouble Drops to All Time Low
© Copyright IBTimes 2023. All rights reserved.