Ukraine Crisis: Swedish Medical Observer 'Freed' in Sloviansk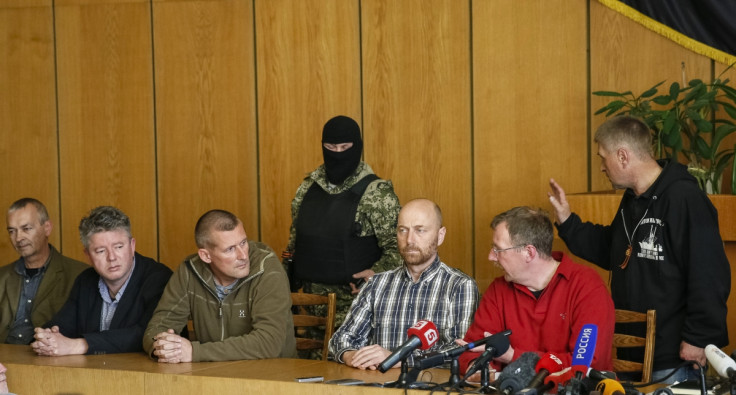 The man, said to be Swedish, was released on medical grounds, a separatist spokeswoman told the BBC.
The eight monitors, who are linked to the Vienna-based Organization for Security and Co-operation in Europe, were detained in Sloviansk on 25 April.
Pro-Russian gunmen in eastern Ukraine paraded kidnapped European military observers before the media.
The group, who are from Germany, Denmark, Poland, Sweden and the Czech Republic, were seized on Friday near the town, and were led into the room by masked gunmen where press were assembled.
"All the European officers are in good health and no-one is sick," said German monitor Col Axel Schneider.
He stressed that they were not Nato officers, but were from the Organisation for Security and Co-operation in Europe (OSCE). "We're not fighters we're diplomats in uniform," he said.
"We are not prisoners of war. We are the guests of (self-declared Sloviansk) Mayor (Vyacheslav) Ponomaryov, and being treated as such."
But Schneider said: "I cannot go home of my free will."
He also said the group had "no indication when we will be sent home to our countries."
Five memebers of the Ukrainian armed forces seized at the same time were not present.
A team from the Organisation for Security and Co-operation in Europe (OSCE) is hoping to begin negotiations to secure their release.
Mr Ponomaryov has said that he may be willing to release them in exchange for the release of pro-Russian activists held by the Kiev government.
Kiev has accused the militia of using the hostages as a "human shield".
The Russian government, an OCSE member, has pledged to take steps to secure the release of the group.
In nearby Donetsk, pro-Russian seperatists seized the regional state television offices.
"they try to influence the people and they broadcast misinformation", one separatist told Reuters.
The West has accused Russia of launching a secessionist uprising across eastern Ukraine following its annexation of Crimea, a claim Moscow denies.
Russian foreign minister Sergei Lavrov has said that to defuse the crisis, Ukraine must end military operations in the east of the country, as troops carried out raids to seize back government buildings.
© Copyright IBTimes 2023. All rights reserved.