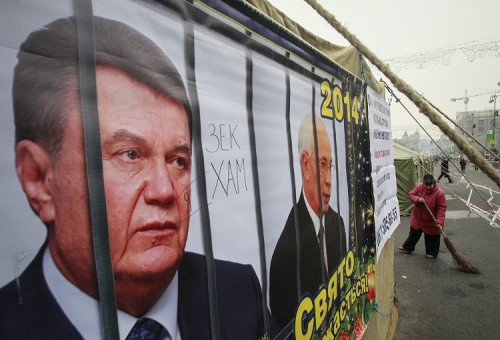 The Ukraine government is forecasting 3% economic growth in 2014 after Russia gave the beleaguered nation an aid package worth 124.2bn hryvnias.
According to its government's budget proposal Ukraine's state spending will now be placed at 447bn hryvnias ($53.9bn, £32.1bn, €39.4bn); revenues are expected to hit 392bn hryvnias, with a budget deficit of 3.6% of GDP.
The latest 2014 budget proposals compare with 2013 estimates of revenues of 370.6bn hryvnias and spending at 419.8bn hryvnias.
Ukraine's economy has shrunk for the previous five consecutive quarters, with the government struggling to cover an external funding gap of 140.8bn hryvnias, which is roughly equivalent to the central bank's depleted currency reserves.
The Russian deal has lifted some of the pressure off the country's struggling economy; cheaper gas supplies to the Ukraine from Russia are also part of the promise.
In addition, Russia said it will buy bonds from Ukraine to prevent it from defaulting on its debt.
Ukrainian Prime Minister Mykola Azarov welcomed the deal on Wednesday and said that it would help Ukraine modernise its economy.
In the whole of 2012, Ukraine's economy grew by just 0.2%, while analysts expect the economy to have contracted by 0.5% after the current political turmoil experienced this year.
The current deal between Putin and the Ukrainian government has been viewed in some quarters as a diplomatic victory for the Kremlin, following tensions relating to Ukraine's affiliation with the EU.
Officials from the EU have made public statements that suggest the door is still open for Ukraine to join the EU if it wants to.