Ukraine on Edge of Civil War: 20 February 2014 as it Happened
About 70 people believed dead in clashes across country.

Protesters capture 50 members of security forces.

EU agree to impose sanctions on Ukrainian officials responsible for the violence, including asset freeze and visa ban.

Footage emerges of government snipers firing at anti-government protesters.
President Yanukovich willing to call early elections to resolve the crisis, according to Polish prime minister.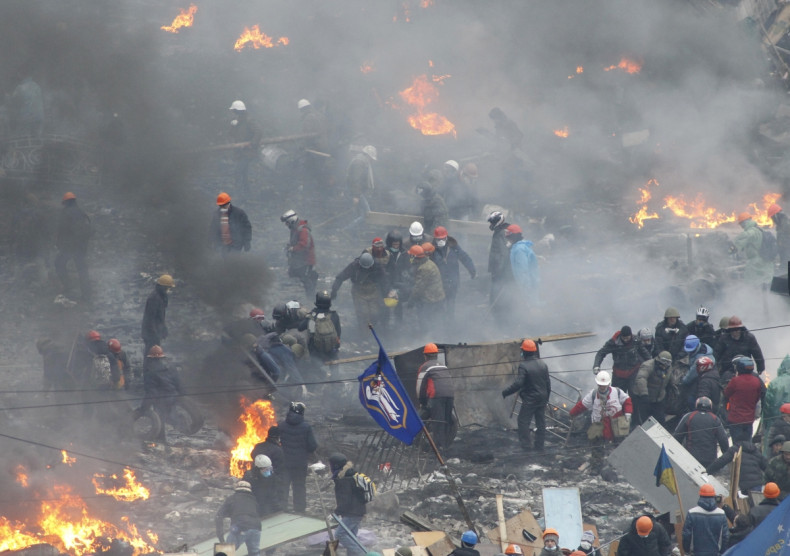 19:01 Our live coverage ends here. IBTimes UK's live blog will be back tomorrow morning.
19:00 Polish prime minister Donald Tusk said President Yanukovych is willing to call early elections to resolve the crisis.
"A willingness for early elections, already this year, parliamentary as well as presidential, was agreed," Tusk was quotes as saying by Reuters.
18:55 Russian Foreign Ministry spokesman Alexander Lukashevich blamed "radicals and extremists" for the bloodshed, urged "the leaders in the square" to end the violence.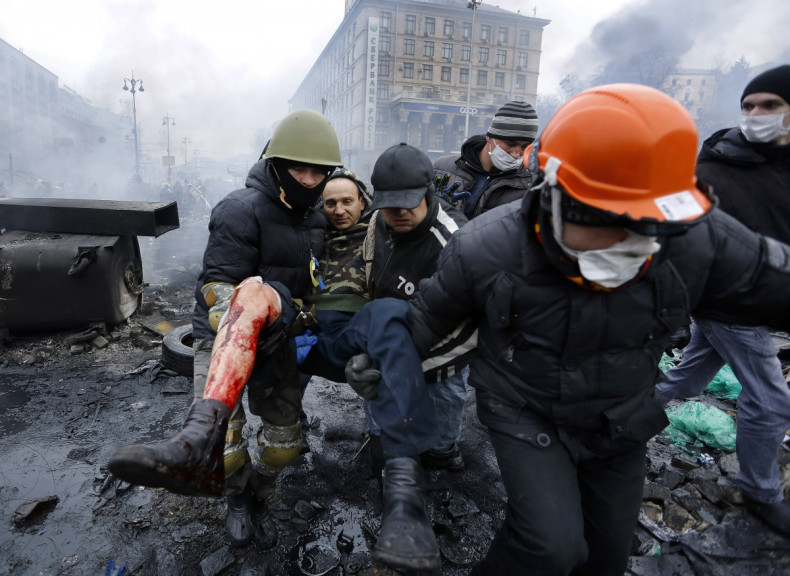 18:31 A minute of silence has been held before the Europa League football match between Tottenham and Dnipro, Ukrainian team. Dnipro's home ground is in the city of Dnipropetrovsk 400km southeast of Kiev A minute's silence was held before the match between Chornomorets Odessa and French side Lyon. Players for all the four teams wore black armbands.
18:16 Sweden's foreign minister Carl Bildt tweeted that the EU has agreed to impose sanctions on Ukrainian officials responsible for the violence.
17:52 It looks like some officials may be making a getaway... Journalist Hanna Babynets from independent Hromadske TV reporting from Kiev's Zhulyany Airport has said: "Three planes have taken off in the past five minutes. It's very likely that they are carrying cash: suitcases have been unloaded under guard from armoured vans usually used to transport cash... scheduled flights have been suspended, the airport administration says."
17:44 Italian Foreign Minister Emma Bonino has said that sanctions against certain Ukrainian officials will be imposed "very rapidly in the next hours".
17:17 Sergey Bubka, head of the Ukrainian delegation to Sochi, has given his view on Ukrainian athletes continuing to compete at the Winter Olympics.
17:12
16:27 Yulia Tymoshenko, the jailed former Ukrainian President, has made a comment on today's unrest in Kiev.
16:13 The White House has urged Ukrainian President Viktor Yanukovych to withdraw security forces from downtown Kiev so that "right of peaceful protest" is respected. It said the US are "outraged" at Ukraine security forces "firing automatic weapons on their own people". "US will work with European allies to hold accountable those responsible for Ukraine violence," says a White House statement. Here's the full statement:
We are outraged by the images of Ukrainian security forces firing automatic weapons on their own people. We urge President Yanukovych to immediately withdraw his security forces from downtown Kyiv and to respect the right of peaceful protest, and we urge protesters to express themselves peacefully. We urge the Ukrainian military not to get involved in a conflict that can and should be resolved by political means. The use of force will not resolve the crisis -- clear steps must be taken to stop the violence and initiate meaningful dialogue that reduces tension and addresses the grievances of the Ukrainian people. The United States will work with our European allies to hold those responsible for violence accountable and to help the Ukrainian people get a unified and independent Ukraine back on the path to a better future.
Meanwhile a parliament meeting has opened in Kiev. Some 227 out of 450 MPs are said to be present, most of them from opposition factions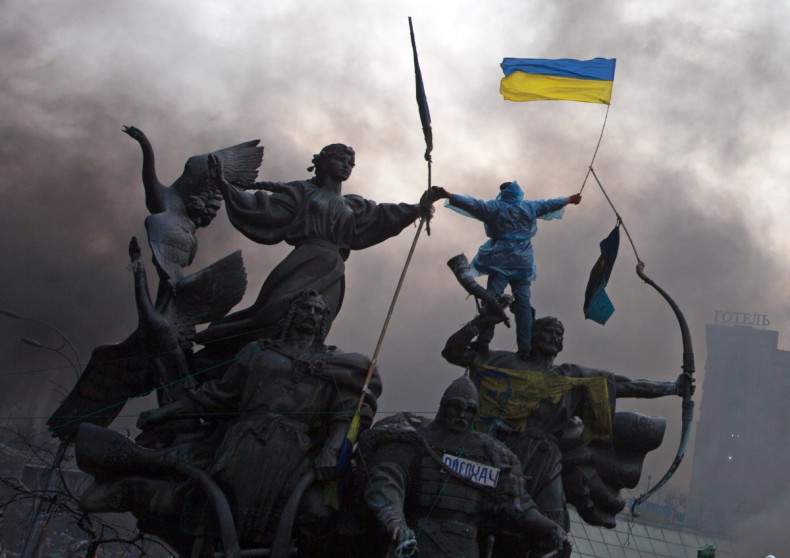 15:50 Ukraine's interior minister confirmed that he signed a decree to issue service firearms to police officers and authorised the use of live ammunition.
15:41 A young medic who posted "I'm dying" on a networking site has undergone surgery and is fighting for her life, according to reports. Full story here.
15:24 There has been a lull in activity on the ground.
14:53 More than 50 police officers have been hospitalised, 30 of those suffered gun shot wounds.
14:09 See our astonishing picture gallery of the Ukraine unrest here.
13:50 William Hague has spoken before the EU Foreign Ministers Council. "It is time on all sides for people to turn away from violence," he said. He also called for an international round of sanctions. 13:32
13:09 Yanukovych's office has claimed that forces are not using live ammunition, only impact rounds.
13:06 Barriers erected by anti-government protesters
13:02 The Ukraine ambassador to UK has been summoned to the Foreign Office.
12:56 Tyahnybok is currently negotiating with Yanukovych defectors before heading to the emergency parlimanet session called by the opposition. "We will win," he says confidently.
12:49 Nationalist opposition leader Tyahnybok has alleged that 50 have died into today's clashes and that the government provoked today's unrest to show the visiting foreign ministers from France, Germany and Poland that a truce was unattainable.
12:43 There have been local radio reports that the government is making preparations towards a state of emergency. Bridges are being closed while rumours of an internet and telephone shutdown persist.
12:33 More footage has emerged of government forces firing upon crowds with assault rifles and sniper rifles.
12:29 EU chief Barroso has spoken on events in Ukraine: "Authorities have special responsibility in avoiding bloodshed & demonstrators also need to keep the peaceful nature of the protest," he said.
12:18 Talks between the foreign ministers of France, Germany and Poland are still continuing after two hours with no results of the talks yet announced.
12:01 Russian PM Dmitry Medvedev has stated that Ukraine should not be a "doormat". "We need partners who are in good shape and for the authorities that work in Ukraine to be legitimate and effective, so that people don't wipe their feet on the authorities like a doormat," Medvedev said in televised remarks.
11:55 BREAKING: Video Evidence of Government Snipers' Massacre of Kiev Protesters [GRAPHIC CONTENT]
11:24 Ukraine's Health Ministry has confirmed 35 dead in Kiev so far. European commission President Jose Manuel Barroso has pleaded for an end to further bloodshed:
11:06 Opposition leader Vitaly Klitschko has called for Palriament to convene, President Yanukovych to call snap elections and for Ukrainians to organise in self-defence.
11:03 [WARNING GRAPHIC CONTENT]This tweet shows a line of slain anti-government protesters, draped in Ukraine flags.
10:59 An anti-government protester reacts in despair as clashes with riot police continued in Independence Square.
10:54 It is reported that live ammunition has been fired at protesters. A man shows a bullet and empty casings during clashes with riot police near Independence Square.
10:49 An Associated Press reporter has counted 18 dead bodies at the protest encampment in Kiev.
10:46 Ukrayinska Pravda have reported that 40 railway cars are transporting troops from Poltava to Kiev:
10:43 It looks like both protesters and police are using live ammunition and sniper rifles.
10:28 Polish Foreign Minister Radoslaw Sikorski has been tweeting on his visit to Ukraine and first-hand from the perimeter of the Ukrainian presidential palace. He has stated that officials are "panicky" as "meeting moved to another location".
10:25 Roland Oliphant, journalist for the Daily Telegraph, reports of 10 dead in Independence Square:
Other reporters confirm that snipers are in use in Kiev:
10:20 Carl Bildt, the Swedish Foreign Minister, has tweeted that there is "no doubt live ammunition used" by government forces in Kiev clashes in what is a "truly alarming development".
10:19 Three EU ministers, Laurent Fabius (France), Frank-Walter Steinmeier (Germany) and Radoslaw Sikorski (Poland) are meeting Ukrainian President Viktor Yanukovych despite earlier reports that they had flown out of the country for security reasons.
10:13 There are reports of 15 to 35 dead shot by snipers. On Wednesday's Ukraine's interior ministry claimed the security forces were not using firearms. But this picture seems to suggest the opposite:
10:00 Reuters has stunning pictures of this morning's violence in Independence Square. In this photo, a woman reacts as dead bodies are seen on the ground:
9:58 Christopher Miller, editor of the Kiev Post, has reported of 35 deaths in four separate locations of Independence Square:
9:51 Ukrainian alpine skier Bohdana Matsotska has decided to pull out of the Sochi Winter Olympics following the bloody events in Kiev's Independence Square. Check our story here.
9:47 Confusion surrounds meeting between president Yanukovich and European Foreign Ministers. Early reports suggested that ministers left for security reasons. But a presidential aide said that the meeting was under way.
Welcome to our live updates of the Ukraine crisis. Here are the latest updates:
Anti-government protesters have seized back control of Kiev's Independence Square after fresh clashes broke out with police
The renewed violence strain truce negotiated between the opposition and President Viktor Yanukovich
Protesters have captured 50 members of security forces
There are different reports of deaths and injuries. The Kiev Post reports of 35 deaths in four separate locations. AP reports of eight dead in clashes. BBC confirmed five dead in the Ukraine hotel.