Armoured riot police cracked down heavily on pro-EU protesters in Ukraine's capital Kiev on Saturday following fresh demonstrations against the government's refusal to sign an EU association agreement.
Police in helmets dispersed crowds of more than 1,000 in Kiev's Independence Square with batons and stun grenades. At least 30 people were detained and an unconfirmed number were injured. Protest organiser Sergei Milnichenko said tear gas had also been used to disperse demonstrators.
Ukraine's interior ministry said the riot police moved in on the crowds after protesters resisted police and threw glass and flares at them.
Witnesses said there were ambulances at the scene and some demonstrators were bleeding from their head and arms.
"It was horrible," said protester Lada Tromada. "We were holding a peaceful demonstration and they attacked us. They threw us away like garbage."
Andriy Shevchenko, a deputy in the opposition party, was quoted by the Interfax news agency as saying: "By my count we are talking of tens of cruelly beaten people, perhaps hundreds. It was absolute savagery."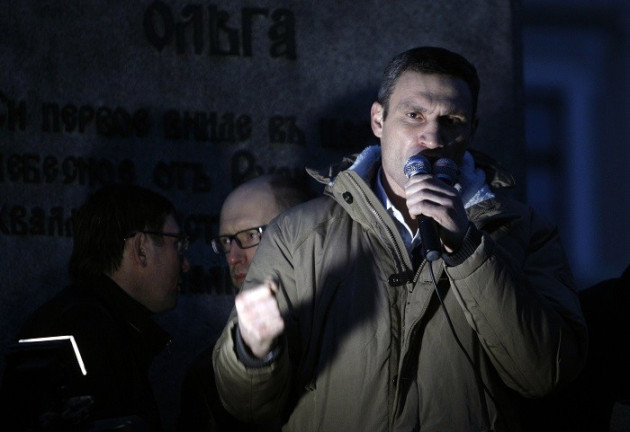 About 200 demonstrators moved their protests to St Michael's Cathedral - the site of a 12<sup>th century monastery that was destroyed by Soviet authorities in the 1930s and rebuilt after independence in 1991.
Around 10,000 people protested in Independence Square on Friday after President Viktor Yanukovich pulled out of the landmark EU association pact at a summit in Vilnius, Lithuania.
The agreement would have opened up Ukraine's borders to EU goods and begun a process of easing travel restrictions.
Yanukovich said the cost of upgrading Ukraine's economy to meet EU standards was too great. He plans instead to revive economic dialogue with Russia.
Opposition leaders have vowed to press ahead with further protests on Sunday and said they would call a nationwide strike aimed at forcing Yanukovich's government to step down.
Heavyweight boxing champion turned opposition politician Vitaly Klitschko said: "After the savagery we have seen on Independence Square we must send Yanukovich packing.
"They undermined the agreement (with the EU) so as to untie their hands for outrageous behaviour which would be unthinkable by European standards."