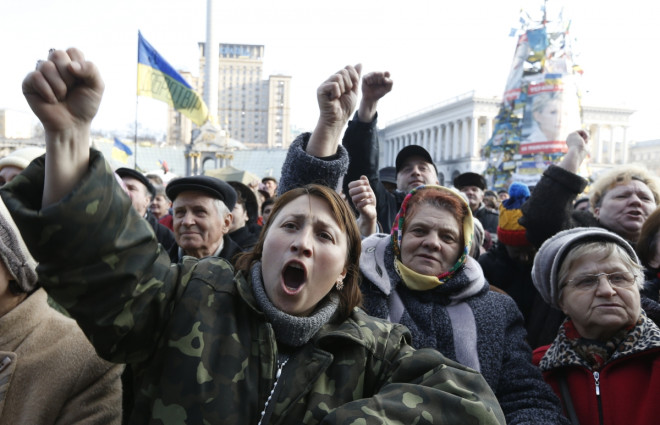 Anti-government protesters camped at the Independence Square or the Maidan in Kiev have issued a fresh ultimatum to Ukrainian President Viktor Yanukovich asking him to step down immediately or face fresh trouble.
The EU-brokered deal struck by Yanukovich and key opposition leaders failed to satisfy the angry protesters who have been camping in central Kiev for several weeks seeking the president's resignation.
As soon as the opposition leaders Vitali Klitschko, Arseniy Yatsenyuk and Oleh Tyahnibok came forward to announce the temporary accord to the protesters in the capital, large sections of the crowd booed and jeered them.
Although the demonstrators welcomed reinstating the 2004 constitution, they became infuriated on hearing that Yanukovych would continue to lead the country until fresh elections in December.
The anti-government campaigners have announced that if Yanukovych does not resign by Saturday (22 February), they will storm the president's office.
While the opposition leaders were addressing the crowd, one of the members of "People's Self-Defence" took the stage.
He said: "77 people died, and they are still negotiating. I ask you to support us in this. I speak from my unit - if you [opposition leaders] don't make a statement demanding Yanukovych's resignation by 10 a.m. tomorrow [Saturday], we will go with the weapons, I swear it."
Attempts by Klitschko, the boxer-turned-politician, to calm down things proved futile as the situation continues to be volatile. He joined the other opposition leaders in urging the protesters to have realistic demands.
"We were waiting for Yanukovych to resign for three months and after he killed 77 people no delays can be accepted. I support the idea to storm him with weapons, we are not afraid of anything now, we are ready to die," Oleh Yavorsky, a member of Maidan's self-defence, told the Kyiv Post.
It is unclear if the protesters will press ahead with their threat or how the Yanukovych administration will respond.
The interim deal, mediated by EU foreign ministers, between the Ukrainian government and the opposition groups came after the country witnessed one of the deadliest days of violence resulting in dozens of casualties.
The agreement has been widely welcomed. The US and Russia have called swift implementation of the accord.